Maple Mustard Apple Chicken Burgers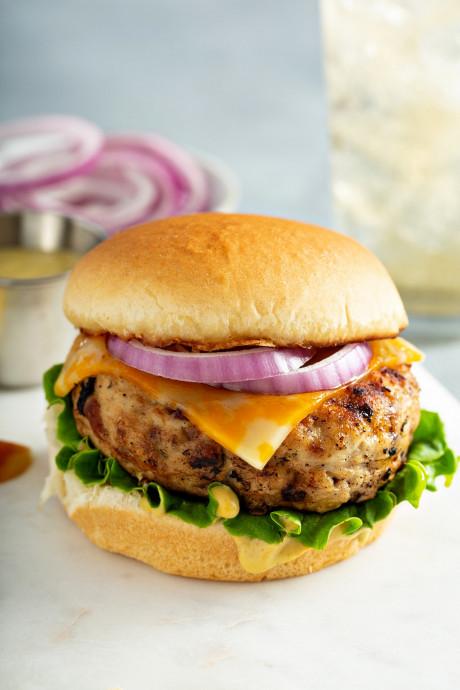 These chicken burgers are a healthier choice for BBQ and they have a special ingredient that makes them delicious! Apples add a touch of sweet to these savory chicken burgers with a simple maple mustard sauce. The mix of ingredients in these chicken burgers is going to blow you away! A little sweet, a little salty, and everything perfect! The perfect maple mustard sauce is what takes these burgers over the top! You only need 3 simple ingredients: Dijon Mustard, Maple Syrup, Mayonnaise. To make this sauce, just mix the ingredients together in a small bowl and place it in the refrigerator to use later.
For this recipe since we are just doing small bacon pieces, cooking them in a skillet works perfectly. Plus, we also want that delicious bacon flavor left in the pan for cooking the onions and apples. Ground chicken is leaner than ground beef, but because it is leaner, you need to add fat and moisture to it. In this case we add bacon to it to make it more moist and tender. Ground chicken is a great way to mix up your proteins and flavors, and on it's own it is healthier.
Ingredients:
5 Slices Bacon chopped
1/4 Cup Red Onion minced
3 Cloves Garlic minced
1/2 Teaspoon Pepper
1/2 Teaspoon Salt
1/4 Cup Apple Juice
1 Apple Chopped, about 2/3 cup
2 Tablespoons Parsley fresh, minced
1/2 Teaspoon Dried Sage
2 Pounds Ground Chicken
1 Cup Panko Bread Crumbs
6 Brioche Buns
Lettuce
1/2 Red Onion Sliced Thin
6 Slices Monterey Jack Cheese any cheese is great, cheddar, smoked gruyere etc
For the Sauce
1/2 Cup Dijon Mustard
2 Tablespoons Maple Syrup
2 Tablespoons Mayonnaise