Acqua Pazza – Italian Poached Fish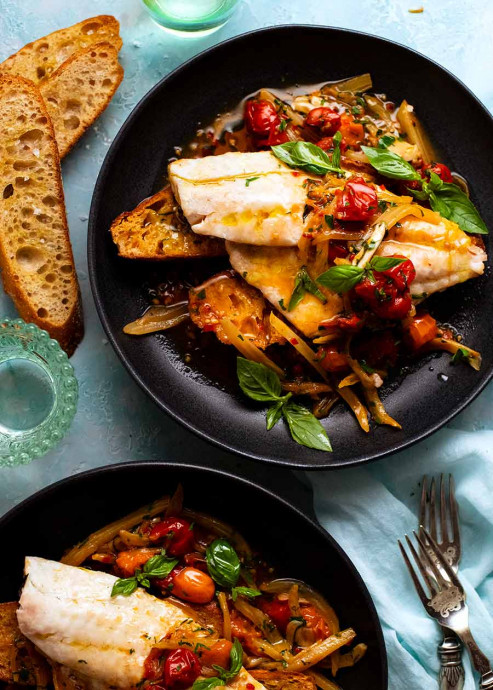 Acqua Pazza – Fun to say, delicious to eat, Pesce all' Acqua Pazza is an Italian poached fish dish that looks and tastes like summer on a plate! The best part is the crispy garlic crostini hidden under the fish that soaks up all that delicious sauce. The literal translation of this Italian dish is "fish in crazy water". Maybe because who would ever think that fish poached in a water-based sauce could be so delicious??! That's crazy! While some have used the name as a licence to add all sorts of things to it, it's actually supposed to be a simple dish based on three core ingredients: wine, tomato and herbs. Oh – and yes, fish.
As always there are various accounts of the origins and meaning of the dish name. No matter the truth, one thing that's clear is it's a dish that showcases the spirit of Italian cooking: taking a few simple ingredients and turning it into something magical. This, coming from someone who usually steers clear of poached fish, declaring that there are so many more exciting ways to prepare fish! But truly, I'd happily eat this every day. And I practically have, leading up to sharing this recipe.
Ingredients:
2 x 180g/6oz snapper fillets , skin on, bones and scales removed (Note 1)
¼ tsp salt
SAUCE:
2 tbsp extra virgin olive oil
¼ red onion , sliced 1cm / 1/3″ thick
½ fennel (medium) , sliced sliced 1cm / 1/3" thick
½ large red chilli (cayenne pepper) , seeds removed and finely chopped (Note 2)
2 garlic cloves , finely minced
15 red cherry tomatoes , halved
10 yellow cherry tomatoes , halved (or more red)
¾ cup chardonnay (not too woody) , or other dry white wine (Note 3)
2 cups water
¼ tsp salt
1 tbsp basil , finely sliced
1 tbsp parsley , finely chopped
GARLIC CROSTINI:
1 crusty baguette , cut 4 to 6 slices on a diagonal, 1cm / 1/3" thick
¼ tsp salt
1 – 2 tbsp olive oil
1 garlic clove , halved (for rubbing)