Cherry Clafoutis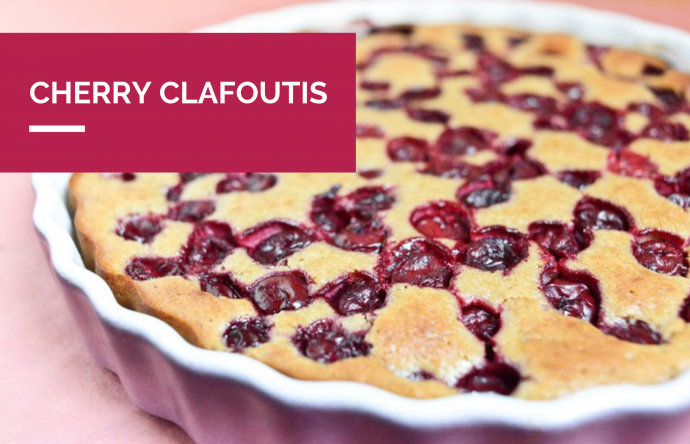 Cherry clafoutis is one of those homemade desserts baked with no specific reason as soon as cherries appears on the shelves at markets. It always has a great success, eaten warm or cold, served alone or with vanilla ice cream.
Pronounced "cla-foo-TEE," from a word meaning "to fill" in a regional French dialect, this easy farm-style French dessert is a cross between a cake and a jumbo fruit pancake or a filled popover, studded with black cherries. You just beat together a quick crêpe-like batter and pour everything right into the pan. It's fun to bring the whole pan to the table straight from the oven so your guests can admire this beautiful, dramatic-looking dish. I always cook Cherry Clafoutis with fresh cherries in season! Enjoy!
Ingredients
2 tablespoons butter
1½ cups cherries (fresh)
1 1/3 cups plus 1 tablespoon unbleached all-purpose flour
1½ cups milk
3 tablespoons sugar
4 large eggs
1 teaspoon pure vanilla extract
¼ teaspoon salt
Directions
1. Adjust the oven rack to the center position and preheat the oven to 350°F. Put the butter in a 9-by 13-inch baking pan, and place the pan in the preheating oven for a minute or so to melt the butter, keeping an eye on it so it doesn't burn. Remove the pan from the oven, and carefully tilt it in all directions to let the butter coat the bottom and the corners. Set it aside.
2. In a small bowl, toss together the cherries and the 1 tablespoon flour, and let this sit for a few minutes while you prepare the batter.
3. Pour the milk into a blender or a food processor fitted with the steel blade. (Or just pour it into a large bowl.) Add the sugar, eggs, vanilla, and salt, and blend (or whisk) until smooth. Sprinkle in the remaining 11/3 cups flour and process (or whisk) just until the flour is incorporated. (You may need to stop and scrape the sides with a rubber spatula to get all the flour mixed in.) There will be some lumps, and that is fine.
4. Pour the batter into the prepared pan, and then scatter the coated fruit randomly but evenly over the batter.
5. Bake for 30 to 35 minutes, or until puffed and lightly browned around the edges. Serve hot or warm, cut into large squares.
Tips
Serve with vanilla ice cream or frozen yogurt.
Sprinkle some toasted sliced almonds over each serving as a garnish.
Vary the fruit. Even though a clafoutis is traditionally made with black cherries, you can use various other fruit, singly or in combination. Just keep the total amount to about 1½ cups. Try offsetting the sweetness of the cherries with some tart raspberries or blackberries, or substitute other types of stone fruit—fresh peaches, apricots, and/or plums, pitted and sliced. In some parts of France, clafoutis is made with grapes or red currants, which are also delicious.