Strawberry Cream Cheese Breakfast Pastries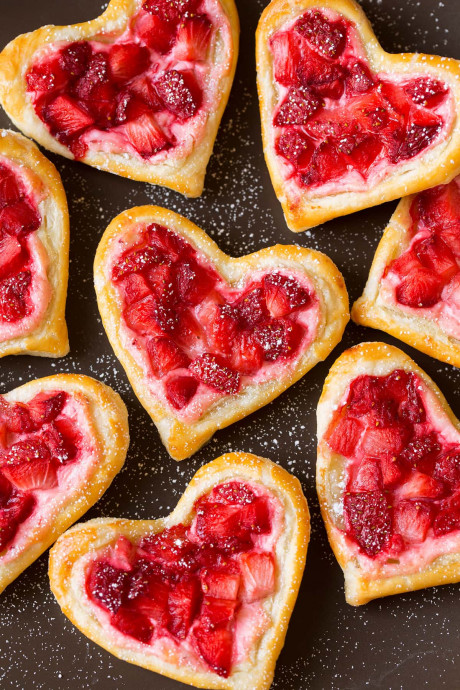 Strawberry Cream Cheese Breakfast Pastries – A simplified, perfectly tasty pastry recipe! Made with a flaky layer of store-bought puff pastry, a creamy, tangy sweetened cream cheese filling and fresh strawberry topping. Who wouldn't love them?
Let's be honest, what's the real reason we all love the holidays? I think many of us could say it's all about the food! Holidays only come about 10 times a year so it's fun to have a day of splurging with delicious treats like so.
Though these may appear just fit for Valentines day this heart shaped, tender and flaky puff pastry breakfast is sure to put a smile on anyones face any day of the year! They are great for making in the summer when all the fresh fruit is in season too. And since these begin with store-bought puff pastry they are easy to prepare. And who could resist that cream cheese strawberry combo?
I like them this way though as it leaves room for the flavor of the strawberries to shine, it also make it reminiscent of cheesecake which isn't overly sweet either. If you do however want them sweeter, add some granulated sugar to the cream cheese mixture and dust with extra powdered sugar when finished.
Ingredients:
1 (8.6 oz) sheet puff pastry
2 oz cream cheese, softened
1 1/2 Tbsp strawberry jam
1 drop red food coloring (or use beet powder) optional
2/3 cup very small diced strawberries
1 large egg whisked with 1 Tbsp water
Powdered sugar, for dusting