Orange Poppy Seed Cake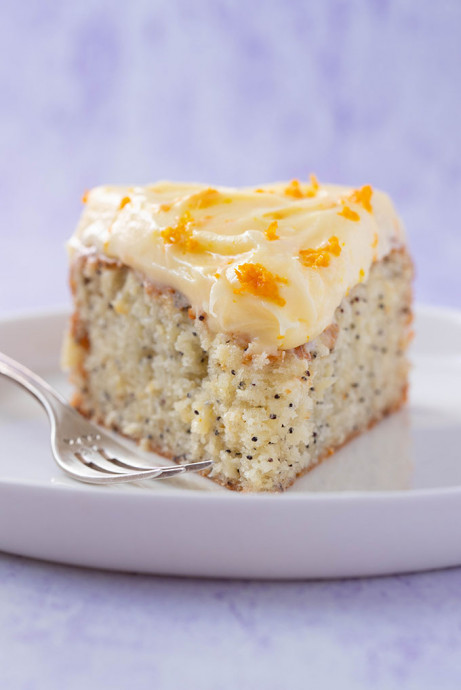 Soft and tender Orange Poppy Seed Cake topped with a luscious cream cheese frosting. This easy cake comes together in minutes and is perfect for your next celebration! You're going to fall in love with this citrus wonder. A super easy Orange and Poppy Seed Cake that takes only minutes to throw together.
Topped with a thick and creamy orange cream cheese frosting. Perfection! It's the perfect cake to whip out for guests. It looks like a masterpiece but honestly, it's not hard to make. And just look at that cake to frosting ratio. This cake is incredibly easy to make. You only need a bowl and spoon – no electric mixer.I recommend using fresh orange juice and zest as suggested in the recipe for maximum flavour. The final ingredients are milk and Greek yogurt. The addition of Greek yogurt ensures your cake has a soft, light and tender crumb. You can also use sour cream instead of Greek yogurt. Mix until just combined and then pour into a round baking tin lined with baking or parchment paper. Try not to over bake this cake. Every oven is different, so start checking the loaf from about 35 minutes onwards. Insert a knife or skewer into the centre of the cake, if it comes out clean, you know the cake is ready.
Ingredients:
210 grams (1 and 1/2 cups) plain flour
2 and 1/2 teaspoons baking powder
200 grams (1 cup) caster sugar
2 tablespoons poppy seeds
Zest of one orange
3 tablespoons fresh orange juice
120 ml (1/2 cup) vegetable oil
2 large eggs
1 teaspoon vanilla extract
120 ml (1/2 cup) Greek yogurt*
60 ml (1/4 cup) milk
Orange cream cheese frosting
115 grams (1/2 cup or 1 stick) butter, softened
250 grams (1 and 1/4 cup) full fat cream cheese, room temperature, roughly chopped
375 grams (3 cups) icing or powdered sugar
1–2 tablespoons fresh orange juice
Orange zest to decorate, optional