Cashew Ricotta Cheese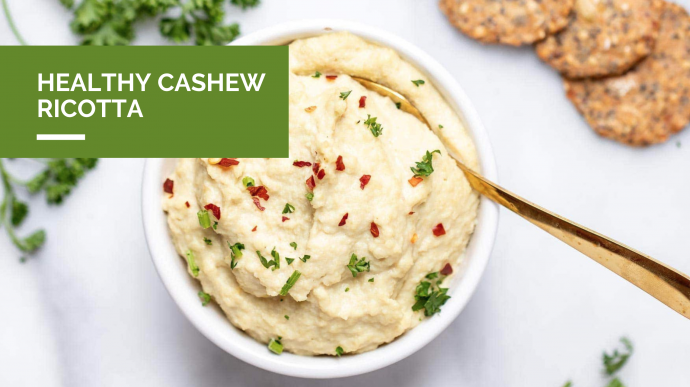 Are you looking for some healthy, dairy free alternatives for your kitchen? This homemade cashew ricotta cheese is a great plant-based option, as it's completely vegan and full of nutritious ingredients.
By the way, cashews are the star of the show in this recipe, as they are rich in nutrients such as protein, monounsaturated fatty acids, copper, phosphorus, manganese, magnesium, and zinc, and provide 220 calories in a 1/4 cup serving. Cashews have a lower fat content than most other nuts, but contain primarily unsaturated fatty acids, which promotes good cardiovascular health. Studies have shown that monounsaturated fats reduce high triglyceride levels which are associated with increased risk for heart disease. So try to cook it at home and enjoy the earthy flavor of cashews with this creamy, delicious dip! I'm sure you will love it!
Ingredients
2 cups raw cashews
3/4 cup filtered water
1 tbsp nutritional yeast
1 tbsp freshly squeezed lemon juice
1 tsp sea salt
Directions
Tip
Step 1
How to plump and soften cashews fast? Just bring a small pot of water to boil. Add cashews. Boil cashews in water for 5 minutes.
Step 2
Drain and rinse cashews. If you are using the hot water method to soak your cashews, it's important to ensure they are rinsed under cold water, so they are not hot when you add them to the blender/food processor as it will change the consistency of the ricotta.
Step 3
Add soaked and drained cashews to a high-powered blender or food processor followed by water, nutritional yeast, lemon juice and salt.
Step 4
Blend on high until cashews have been fully blended and no visible chunks remain, stopping to scrape down the sides as needed. The final product should be creamy with the consistency resembling traditional ricotta. Be careful not to overblend or the consistency will become paste-like. Enjoy right away or refrigerate until ready to use.
Bon appetit!