Baked Chicken Mac and Cheese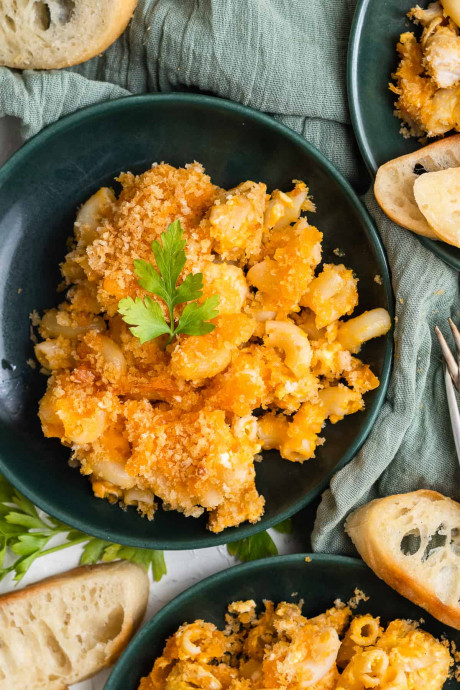 This delicious baked chicken mac and cheese casserole is so deliciously cheesy and comforting! Topped with panko breadcrumbs, it's super easy to make and ready to serve in 35 minutes! It's the perfect comfort food that's so simple to make, and it's a dinner that the whole family will love! Quite honestly, this is a delicious meal all by itself, or serve it up with some crusty bread or garlic bread for a real treat. You can of course serve it with a veggie side or a fresh salad to get some extra goodness into your day.
You can make the casserole up ahead of time, cover it with plastic wrap and then keep it in the fridge for a day or two until you are ready to bake it. Leftovers can be kept in the fridge for up to 3 or 4 days and reheated, covered with foil, at 350F for 20 minutes until warmed through. Take care to only reheat the chicken once.I like to use chicken tenders in this recipe, but you can also use chicken breast or thigh, just be aware that they will require a slightly longer cooking time.
Ingredients:
10 chicken breast tenders cleaned and cut into bite size pieces
3 cups of pickle juice
1 teaspoon of black pepper
2 tablespoons of brown sugar
14 ounces boxed mac & cheese
1 ½ cup of panko breadcrumbs
4 tablespoons of butter at room temperature
4 ounces of cream cheese at room temperature
8 ounces of mild cheddar cheese freshly grated
Olive oil for cooking the chicken