Crunchy Baked Chickpeas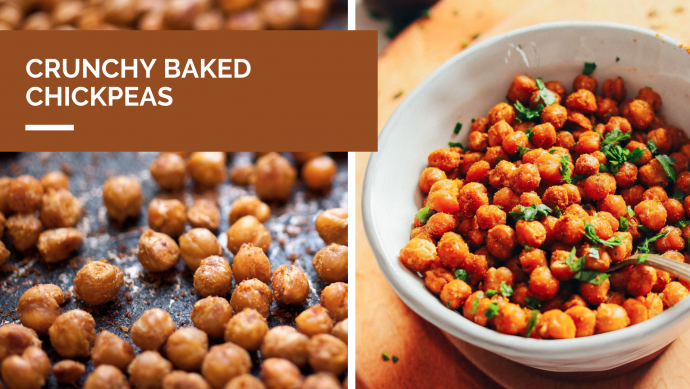 Roasted in the oven, these chickpeas transform into a crispy, salty, savory snack. These baked chickpeas are so flavorful, plant-based, gluten-free, delicious and so simple to cook. They're easy, flavorful & healthy and make a great snack or salad topper. If you haven't yet been introduced to this snack, please allow me to do the honors. Here is our step-by-step recipe for roasting chickpeas in the oven.
Ingredients
400 g chickpeas
2 tablespoons olive oil
1 teaspoon sea salt
Herbs & Spices:
½ tsp ground cumin
½ tsp smoked paprika
½ tsp garlic powder
¼ tsp onion powder
¼ tsp ground coriander
¼ tsp freshly ground black pepper
Note: Let your imagination run wild! I have given you my favorite combination of delicious flavors here, but feel free to use whatever you prefer!
Directions
Step 1
Preheat oven to 400 F. Lightly spray a baking sheet with non-stick spray. Set aside.
Step 2
Rinse and thoroughly dry the chickpeas.
Step 3
In a small bowl, mix together cumin, paprika, garlic powder, sea salt, onion powder and pepper. Set aside.
Step 4
Bake dried chickpeas in the preheated oven on prepared baking sheet for 15 minutes (do not add any of the other ingredients yet)! Remove the chickpeas from the oven and drizzle ½ TBS olive oil over the chickpeas, stirring until evenly coated. If necessary, slowly add more olive oil until all the chickpeas are lightly coated with olive oil.
Step 5
Add spices to chickpeas and stir until evenly coated. Bake at 400 F for 10 more minutes, then stir.
Step 6
Return stirred chickpeas to the oven and bake them for an additional 5-10 minutes, until desired crispiness is achieved (a total of 35-40 minutes of baking).
Turn off the oven and crack the door a bit. Let chickpeas cool in the oven to achieve maximum crispiness.
These oven-baked chickpeas are my favorite way to add more protein and fiber to a meatless salad!