Potato Skins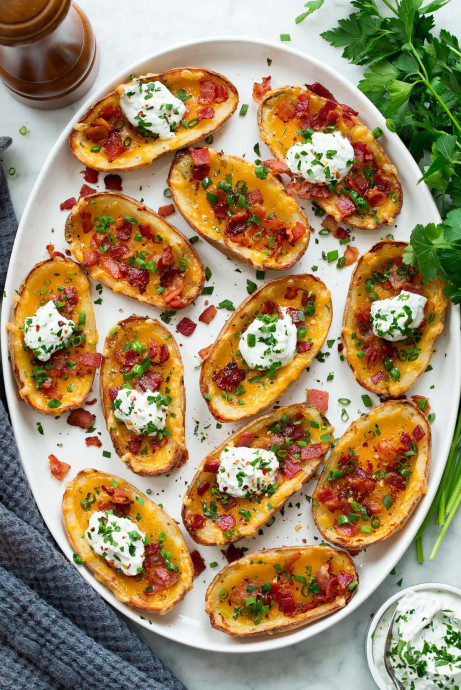 Crispy Potato Skins – baked russet potatoes are hallowed out into a boat-like shape, baked until crisp, filled with cheddar cheese, then finished with bacon, green onions and a herbed sour cream. In other words you know they'll be expectedly delicious with ingredients like that! Here we've turned what may otherwise be the unwanted wasted portion of the potato into an all out comfort food classic no one can resist! First of all, can you eat potato skin?
Yes of course! It's actually the most nutritious part of the russet potato and a good source of fiber. The trick is just to be sure that you've cleaned them well by scrubbing clean (with a clean scouring pad or brush) while rinsing under water to remove dirt and debris. Is green potato skin safe to eat though? You should not eat green potato skin as it can contain a toxin called solanine, which can cause nausea and other intestinal upsets. This reaction occurs when potatoes are exposed to too much light, it also makes the potato skin taste bitter.
You can peel away green portions and still use the potato flesh that isn't green, but here if there are large areas of skin covered in green it's best to get a new batch of potatoes since we are using mostly potato skin. Use a combo of two types of cheese, cheddar and another smooth melting cheese. Instead of finishing with melted cheese just fill with broccoli cheese sauce. Load up with chili after baking with cheese. Serve with ranch dressing drizzled over or for dipping instead of the herbed sour cream.
Ingredients:
6 medium (7 oz each) russet potatoes (2.5 lbs total)
7 slices bacon, chopped (7 oz)
1 1/4 cups (5 oz) shredded medium cheddar cheese
1 Tbsp olive oil or vegetable oil
Salt and freshly ground black pepper
3 green onions, chopped
3 Tbsp minced parsley, plus more for garnish
1 garlic clove, minced (1 tsp)
3/4 cup sour cream
1/4 tsp red pepper flakes, optional