One-Pot Lemon Orzo with Shrimp and Fennel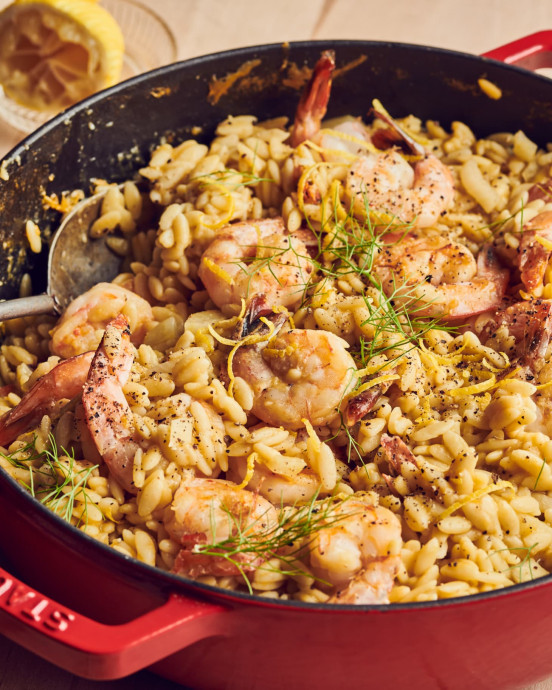 This cozy one-pot meal starts with an ingredient everyone can agree on: pasta! Tiny rice-shaped orzo pasta cooks quickly, soaking up tart citrus, anise-flavored fennel, and savory broth. Much like making risotto, constant stirring coaxes the starches from the orzo into the broth, creating a rich and creamy sauce. Add plump shrimp until they curl and turn pink, and finish with a squeeze of fresh lemon juice. Don't forget to top each hearty bowl with a sprinkle of green fennel fronds.
Have you been curious about the tear-shaped vegetable with delicate dill-like fronds? Here, fennel adds a mild anise flavor to this bright and lemony pot of orzo. The entire vegetable is edible, from the crunchy bulb to the feathery fronds. Cut the green stalks and fronds to remove it from the white base, reserving it for garnishing the orzo. The diced fennel bulb cooks until crisp-tender with the orzo, infusing the entire dish with its light licorice flavor.
Ingredients:
1 pound large raw shrimp
1/2 medium fennel bulb
1 large lemon
1 pound dried orzo pasta
1 tablespoon olive oil
2 teaspoons kosher salt
1/4 teaspoon freshly ground black pepper
4 cups (32 ounces) vegetable broth
1/2 cup water