Wacky Cake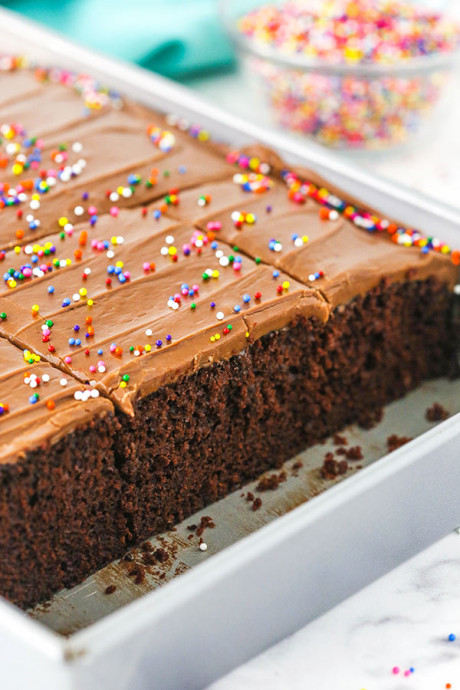 Wacky Cake is an easy cake recipe made without any eggs or dairy – making it "wacky"! This cake has been around since the Depression Era when ingredients were scarce. And there's a reason that it has stood the test of time – it's a tasty, moist cake that is super simple to make!
What makes Wacky Cake unique? It uses no eggs or dairy. You don't need a mixer – and you actually mix it right in the pan it's baked it. No need to grease the cake pan. It seems wacky, but it totally works! And it actually makes a great cake. You'd never know that it's missing several of the traditional cake ingredients. The cake was created during a time when ingredients were scarce during the Great Depression, but it's also a great cake if you have an egg or diary allergy.
To make a Wacky Cake, you'll combine your flour, sugar, cocoa powder, baking soda and salt in a 9×13 baking pan. And there's no need to grease it. Make three little wells in the dry ingredients – one larger and 2 smaller. You'll add the oil to the large well and the vanilla extract and vinegar to the smaller wells. Then pour the cup of water evenly over the entire pan and use a fork or whisk to mix it all together. Now, it's time to bake it! Super simple!
Ingredients:
3 cups (390g) all purpose flour
2 cups (414g) sugar
1/2 cup (57g) unsweetened cocoa powder
2 tsp baking soda
1 tsp salt
2 tsp vanilla extract
2 tbsp vinegar
3/4 cup (180ml) vegetable oil
2 cups (480ml) water
CHOCOLATE FROSTING
11 tbsp (154g) unsalted butter
6 tbsp (90ml) milk
5 tbsp (35g) unsweetened cocoa powder
4 cups (460g) powdered sugar, sifted
1 1/2 tsp vanilla extract
Pinch of salt