Blueberry Buttermilk Cake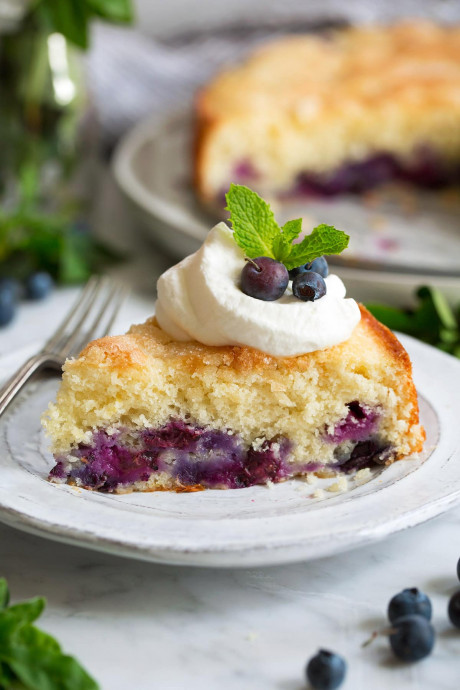 This Buttermilk Blueberry Cake is all of your cake dreams come true! It's incredibly moist and deliciously flavorful thanks to the buttermilk that's mixed into the batter, and it's bursting with fresh blueberries in every bite.
This buttermilk blueberry cake is perfect for any occasion. It makes a great breakfast cake, snack cake, dessert cake, or tea cake. And if you finish it off with a generous dollop of the sweetened cream cheese whipped cream, it also makes an amazing birthday cake!
Try substituting raspberries or sliced strawberries in place of the blueberries. If you don't want the blueberries to sink to the lower half of the cake, toss them with 1 Tbsp of the flour after you rinse and drain them. This blueberry buttermilk cake turns out just fine with a buttermilk substitute. If you don't have buttermilk, you can make your own substitution by mixing 2 1/4 tsps lemon juice or vinegar with enough milk to equal 3/4 cup. Whisk and let rest 5 minutes before adding to cake batter.
Ingredients:
1 1/2 cups (213g) all-purpose flour (scoop and level to measure)
2 tsp baking powder
1/2 tsp salt
1/2 cup (113g) unsalted butter, softened
1 cup (200g) granulated sugar, divided
1 tsp lemon zest
2 large eggs
1 tsp vanilla extract
3/4 cup (175ml) buttermilk
2 cups (278g) fresh blueberries