Baked Meatball Sliders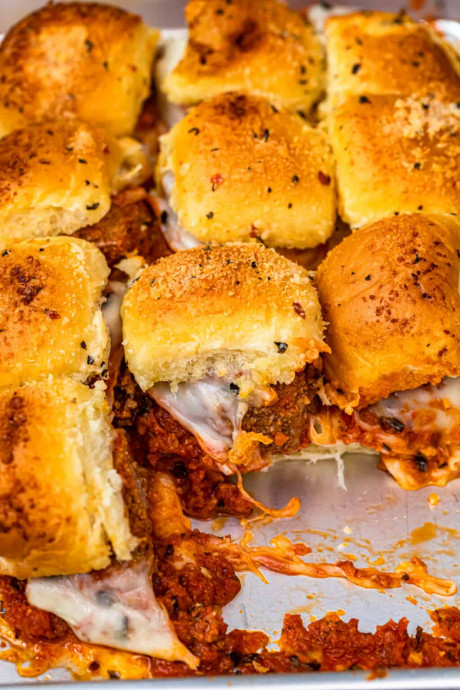 These Baked Meatball Sliders are such a crowd pleaser! Juicy meatballs slathered in marinara sauce and cheese, nestled between soft slider rolls. An easy game day appetizer! Whether you're after an awesome game day appetizer or an easy dinner recipe, these Meatball Slider will hit the spot! Baked to perfection and a breeze to whip up, these little beauties really pack a flavor punch!
Why you'll love this Meatball Sliders recipe: Loaded with flavor: Meatballs drenched in tangy marinara sauce and melty cheese – divine! A delicious buttery glaze: The slider are coated in a mix of seasoning and melted butter – yes please! An easy appetizer or dinner: These hearty sliders are great as an app or as a main. These are great for parties because you can prep it all and just before baking, cover n foil and place in the fridge for a few hours until ready to bake.
Ingredients:
12 meatballs; homemade or frozen thawed
1 package Hawaiian Rolls 12-count
12 slices Provolone cheese
24 ounces marinara or spaghetti sauce
¼ cup unsalted butter melted
1/8 teaspoon freshly ground black pepper
2 medium garlic cloves minced
½ teaspoon Italian seasoning
1/8 teaspoon crushed red pepper flakes
2 tablespoons grated Parmesan cheese
Fresh basil chopped