Salted Chocolate Chip Cookie Lava Cake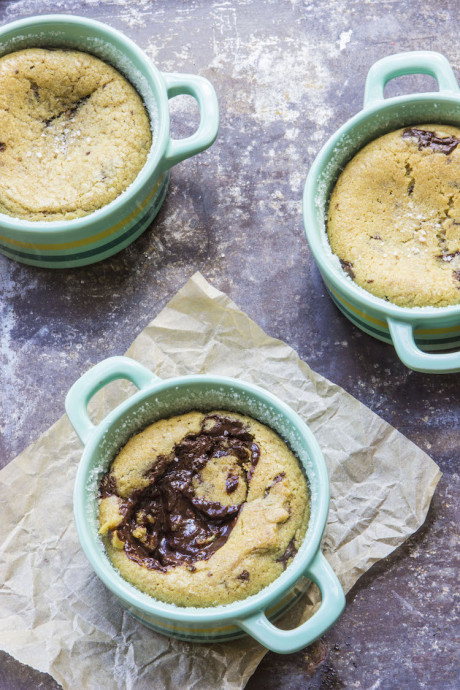 This cookies primarily consist of a generously sized chocolate chip cookie filled with chocolate ganache (the base used to make the salted caramel whisky truffles). Unlike that recipe, this ganache base does not contain any salted caramel or whisky for the sake of simplicity.I used my favorite cookie recipe for the base because it's quite thick and easy to work with. I added a touch of instant espresso powder to the cookie dough because it helps cut through the sweetness of the mixture. Optional, but highly recommended.
The ganache dollops must be completely coated in the cookie dough before baking (see the recipe for more detail on this) I find that 15-17 minutes is the perfect time to bake these cookies, and you'll have a tougher exterior. Any less and the cookie dough may not be baked all the way through. While these do taste great chilled, in order for the center to be molten, the lava cakes must be served warm, either 5-10 minutes after having been taken out of the oven, or microwaved for several minutes. I love to serve these with any fresh berries because berries add a fresh, lighter taste to this rich dessert- and only work to enhance the flavor.
Ingredients:
FOR THE COOKIE DOUGH
1/2 cup (115 g) unsalted butter, softened
2 tbsp granulated sugar
¾ cup brown sugar
1 egg
1 tsp vanilla extract
¾ tsp baking soda
½ tsp salt
¼ tsp instant espresso powder (optional)
1 ¾ cup all-purpose flour
100 g (just under 4 oz) chocolate, chopped/chocolate chips
FOR THE MOLTEN CHOCOLATE
100 g (just under 4 oz) chocolate (dark chocolate is preferable), chopped/chocolate chips
1/3 cup (80 mL) heavy cream