Panna Cotta with Raspberry Gelee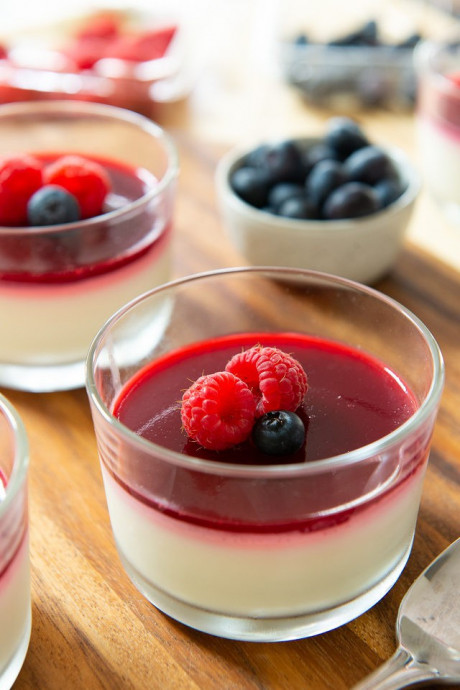 This creamy Panna Cotta is a great make-ahead dessert that's simple to make, and pretty enough for a special occasion. Because Panna Cotta is so often served at restaurants, it's easy to think of it as complicated or fancy. But it's one of the easiest desserts you can make yourself.
And because it has to be made ahead, it's a great stress-free dessert for entertaining. All you have to do is pull it out of the fridge when you're ready to serve.
What is Panna Cotta? Panna Cotta is a creamy Italian custard that's enjoyed cold. It's traditionally set with gelatin, and can be served in glasses like I have here, or inverted onto a plate for a molded look. I think it looks beautiful in glasses, and then you don't have to deal with the stress of inverting them perfectly. But, these can be inverted if you'd like. The panna cotta stays molded very nicely, while the raspberry sauce spreads slightly.
Ingredients:
1/2 cup milk
1 envelope powdered unflavored gelatin (only use 1.5 tsp of it here)
1.5 cups heavy cream
1/4 cup sugar
1 tsp vanilla extract
1/4 tsp salt
remainder of above gelatin envelope (about 3/4 tsp)
1/4 cup water
1.5 cups fresh or frozen raspberries (6 oz)
1/4 cup sugar
2 tsp lemon juice