Kale Salad with Carrot Ginger Dressing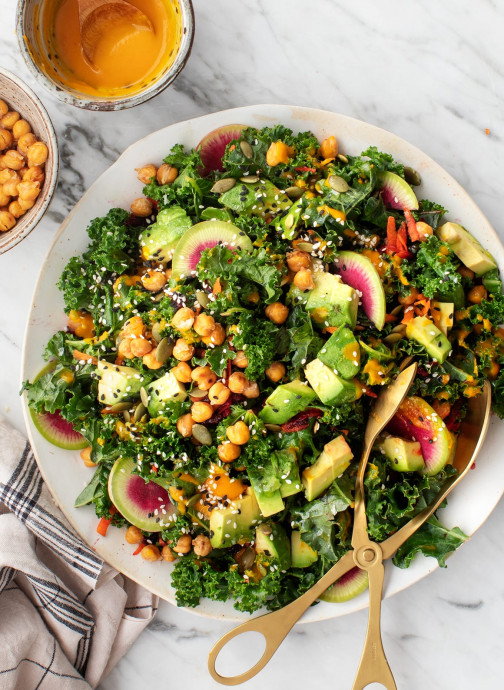 This happy, feel-good kale salad recipe is packed with colorful vegetables, crispy chickpeas, avocado, cranberries, and pepitas. Great for lunch!
Is it just me, or does it seem like the kale salad has gone out of style? For a while there, the internet was a kale-crazy place to be, but it seems to have fallen out of favor due to Brussels sprouts salads, roasted squash salads, and even pasta salads.
I feel healthier just looking at all that kale! Oh, how I've missed you, kale salad! I like to build kale salads with a variety of flavors and textures, so I add soft dried cranberries, creamy avocado, crunchy roasted chickpeas, crispy pepitas, and fresh grated & sliced vegetables to this kale salad recipe.
Layer everything in then toss and douse it all with the carrot ginger dressing. Serve the salad right away, or pack it up for lunches throughout the week. It can be stored dressed since kale leaves are so sturdy. If you're packing this for multiple days, I would keep the avocado separate and add it to the salad before you leave for work.
Ingredients:
½ cup chopped roasted carrots, from 3/4 cup raw carrots
1/3 to ½ cup water
¼ cup extra-virgin olive oil
2 tablespoons rice vinegar
2 teaspoons minced ginger
¼ teaspoon sea salt
1 batch Roasted Chickpeas
1 bunch curly kale, stems removed, leaves torn
1 teaspoon lemon juice
½ teaspoon extra-virgin olive oil
1 small carrot, grated
1 small red beet, grated*
½ watermelon radish, very thinly sliced
1 avocado, cubed
2 tablespoons dried cranberries
¼ cup pepitas, toasted
1 teaspoon sesame seeds
Sea salt & Freshly ground black pepper