Lemon Couscous Recipe (10 Minute Side Dish!)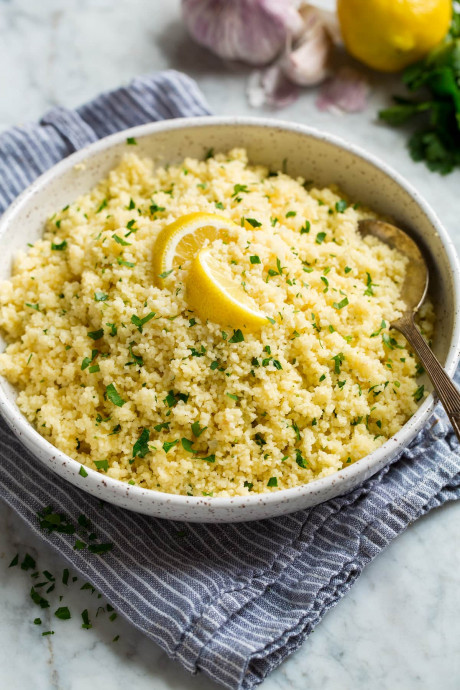 This Lemon Couscous is one of the fastest, easiest side dish recipes! Plus it has a delicious bright flavor that pairs well with just about any main dish, it's incredibly versatile too.
This simple couscous recipe is just one of those must have recipes! And really after you've made it a few times you won't need a recipe at all.
It's so straightforward, easy to memorize and also easy to switch things up with other ingredients you have on hand. With it's delicious flavor and 10 minutes to finish it will quickly become a weeknight staple! Pair with chicken, beef, lamb, pork, fish, shrimp, vegetables – options are endless. While all are three types of couscous are traditionally made of durum semolina flour the size and texture are the main differences. Moroccan couscous: This is the smallest type of the three. It cooks the fastest and has a soft, fine texture. Israeli couscous: Also known as Ptitim, giant couscous, or pearl couscous. This type is quite a bit larger than moroccan couscous and takes longer to cook (approximately 10 minutes). It has a chewy texture. Lebanese couscous: Also known as Moghrabeyah, this is the largest of the three types. It's is about the size of peas and takes the longest to cook (about 15 – 20 minutes). This type also has a chewy texture.
Ingredients:
2 Tbsp extra virgin olive oil
1 1/2 tsp minced garlic (1 large clove)
1 1/4 cups low-sodium chicken broth (or vegetable broth)
1 tsp lemon zest
2 Tbsp fresh lemon juice
Salt
2 Tbsp chopped fresh parsley, or more to taste (optional)*
1 cup (6 oz) couscous (not pearl couscous)