Chicken Foldover Quesadillas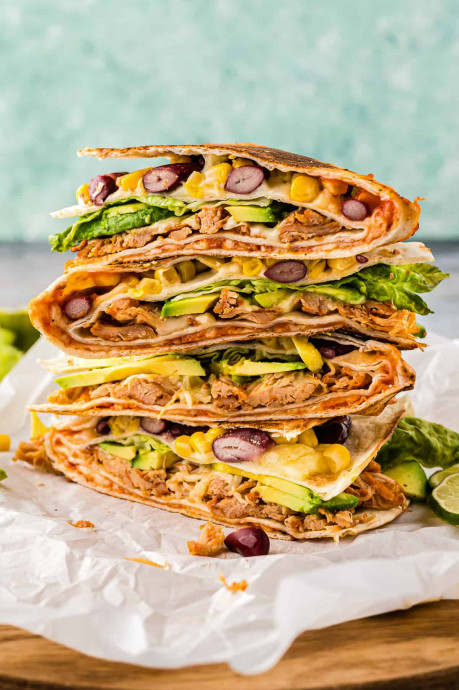 If you've seen the latest tik-tok trend of folded tortillas, you will love these chicken foldover quesadillas! Made with corn, avocado, pulled chicken, cheese and beans and a homemade spicy tomato sauce. Hands up who has tried the folded tortillas that are currently taking over the internet?! This chicken version is loaded with flavor and they are so simple to make! These chicken foldover quesadillas are a great Mexican inspired appetizer that the whole family will love! Why You'll Love this Chicken Quesadilla Hack Recipe:
Easy: This recipe has become so popular because of how easy and straight forward it is to make.
Quick: These quesadillas are ready to serve in 15 minutes, making them a great option for a last minute bite. Kid-friendly: Older kids will have a great time helping you make these and kids of all ages will love eating them! The cheese in these chicken foldover quesadillas acts like the glue to hold everything together. You can use whatever cheese you like, but choose a good melting one. Mozzarella or cheddar works well, or you can use a blend like Tex Mex or Mexican. Use more if you like – everything is better with cheese!
Ingredients:
4 soft tortilla wraps
1.5 cups grated mozzarella cheese note 1
1 cup pulled chicken note 2
½ cup kidney beans drained
½ cup corn drained
1 avocado sliced
4-8 lettuce leaves
For the sauce
½ cup tomato puree
1 teaspoon paprika powder
1 teaspoon garlic powder
½ teaspoon ground cumin
½ teaspoons dried oregano
½ teaspoon cayenne pepper
¼ teaspoon ground coriander