Chicken in Sun Dried Tomato Cream Sauce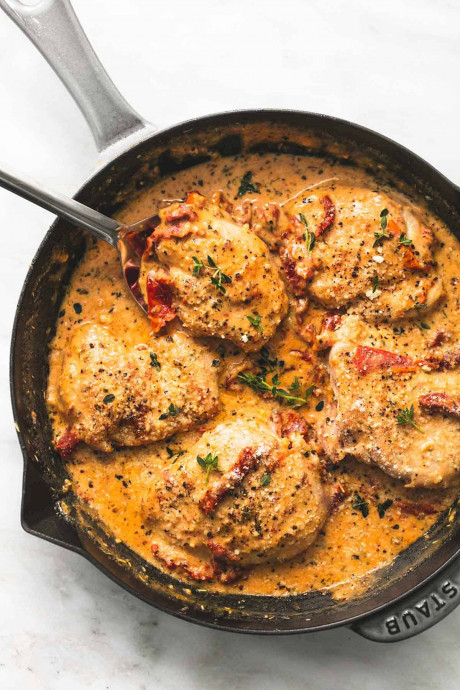 This tasty 30 minute skillet chicken in creamy sun dried tomato sauce recipe has bold and rich garlic, parmesan, and herb flavors that will leave you craving more! The rich, creamy, cheesy, sun dried tomato and garlic herb sauce is a big fat slice of heaven on earth and your weeknight chicken game will never be the same after you try this goodness. If you haven't had sun dried tomatoes before…they're really incredible. You can purchase them at any grocery store, usually near the olives.
Just a few words on what makes this dish a real winner! Not only is it delicious but everything cooks up in just one big skillet! Grab some herbs from your pantry, some half-and-half from your fridge, a little butter, some garlic, those tomatoes, and chicken and you've got yourself an easy, on-skillet chicken dish you'll make again and again. With a deeper, richer taste than chicken breasts, I think chicken thighs are perfect in this dish and really balance out the flavors of the sun dried tomatoes. Of course, you can totally use boneless, skinless chicken breasts if you like as well. This 30-minute chicken dish is easy enough to throw together for any busy weeknight, yet impressive enough to wow company and become a go-to for special occasions.
Ingredients:
4-6 chicken thighs (I used boneless skinless), or 4 chicken breasts pounded to even thickness
2 tablespoons butter
3 teaspoons minced garlic
2 teaspoons Italian seasoning OR 1/2 teaspoon each dried basil, dried oregano, dried thyme
1/2 cup juliened sun dried tomatoes, (they come in a jar packed with oil, be sure to drain excess oil)
1 cup chicken broth
1/2 cup half and half, or heavy cream (use heavy cream for a thicker, creamier sauce!)
2/3 cup shaved or shredded parmesan cheese (or more to taste) + 1/4 cup grated parmesan cheese for topping
fresh basil or thyme, for topping
salt and pepper, to taste (I use about 1 teaspoon salt and 1/4 teaspoon pepper)