Swiss Meringues & Most Common Mistakes To Avoid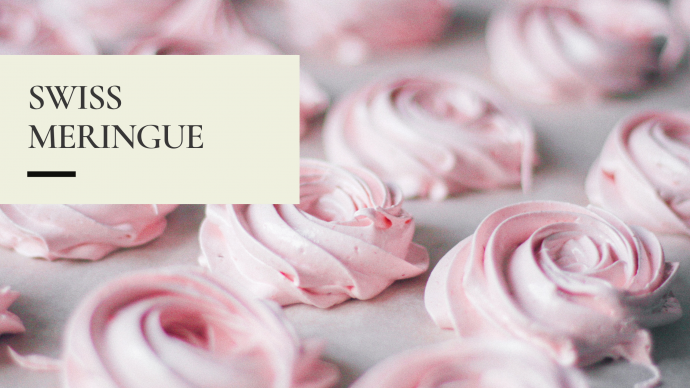 Various pastries, breads, and ice creams require many eggs yolks. Pastry chefs, not wanting to waste egg whites, make meringue at the end of the day. When the baking for the day is complete, the meringue goes into the oven to bake in the warm, cooling oven. The beautiful meringue is ready when the baker returns. You'll find these pillowy clouds of meringue as you enter many patisseries. And here I would like to share with you the secrets of making these beautiful cookies at home.
Meringues are beautiful, light as air, perfectly sweet, and so easy to make! Serve them with a cup of coffee or just put into a cookie tray. Try dipping or drizzling with chocolate for an extra layer of flavor and remember, these make a delightful addition to the table and wonderful gifts!
Ingredients
3 large egg whites, at room temperature
Pinch of salt
1/2 cup (3.5 oz.) granulated or caster sugar
1/2 teaspoon pure vanilla extract
3/4 cup (3.2 oz.) powdered sugar
Food coloring, optional
Directions
Step 1
Line a baking sheet with parchment paper.
Step 2
Double-check that your mixer bowl is extra clean and not greasy, as that will cause the egg whites to not whip up properly. In a bowl of an electric mixer fitted with the whisk attachment, whisk egg whites and salt on low-medium speed until foamy and soft peaks start to form, approximately 40-50 seconds. Then, while mixer is running, add the sugar, very slowly, one tablespoon at a time, and continue whisking on medium-high speed until stiff peaks form, meringue is glossy and completely smooth but not dry, and the sugar is fully dissolved (this part of adding the sugar and continues beating may take 5-10 minutes.). Beat in vanilla extract. Stop the mixer and add the powdered sugar. Fold gently by hand until combined and smooth.
Step 3
Be careful not to overbeat the meringue. It will become grainy. When the meringue is ready, you may wish to add a few drops of food coloring, if using.
Step 4
While the meringue is whipping, preheat your oven to 200°F. If your oven has convection function either turn it off the feature or reduce the heat by 25°F. It is better to bake a little cooler than too warm.
Step 5
Transfer the meringue into a pastry bag fitted with a large open or star tip. Pipe a 3–4 inch flat base, extending the edges up with one more round to make a cup shape. You can also use a spoon to drop the meringue onto the parchment-lined sheet and shape the cups with the back of the spoon.
Step 6
Place the pan in the center of oven. Bake for about 2 hours, or until the cups remove easily from the parchment paper. They should be crisp and light without any browning. Once the meringue cups have finished baking, you can turn off the oven and cool the cups in the oven. This will help them stay crisp and bake completely.
Meringue cookies will keep for 2 weeks in an airtight container at room temperature.
That's it! Serve with coffee or tea!
Tips
To separate egg whites, use cold fresh eggs. Eggs separate more easily if they are cold. Be sure there are no bits of broken yolks in the egg whites. To help keep the yolk from breaking, crack the egg on a flat surface rather than on the edge of the bowl. After cracking, open the egg into the open palm of your hand. The white will run between your fingers and the yolk will stay intact in your hand. Gently roll the yolk into the bowl. Whites will whip better if they are at room temperature or warmer. Set the bowl containing your egg whites over another bowl of warm water. Swish them around in the bowl and the chill will disappear. Your egg whites will be perfect.
Meringues are usually ready once they appear dry and are easily lifted from the parchment paper with their bases intact.
Try dipping or drizzling with chocolate for an extra layer of flavor.
4 Common mistakes to avoid
1. Adding the sugar too quickly.
As you beat, don't rush adding the sugar. The slower you add your sugar, the better it'll dissolve into the whipped whites. We recommend pouring in 1 tablespoon at a time. This'll help you achieve a silky smooth texture instead of a gritty one.
2. Not bringing eggs to room temperature.
Egg whites will produce a better, airier meringue if they start out at room temperature. For the very best results, let your egg whites come to room temperature for a full hour. Separate eggs one by one into a small bowl, and then add the egg whites individually into the bigger mixing bowl. That way, if a yolk slips through, you need only discard one egg white and not the whole batch.
3. Beating the egg whites for too long.
One of the most common mistakes is not beating the eggs long enough, or on too slow a speed, which means the egg whites won't reach stiff peak stage and instead only reach a soggy droopy stage. But the opposite can also happen: if you beat them for too long, eventually the whites go past peak stiffness to a kind of grainy consistency.
4. Not taking weather into account.
I know, that may sound weird, but it's best to make meringues on a dry day. On humid or rainy days, they can absorb moisture and become limp or sticky.
Well, that's it for today! Try to make these at home and let me know, if you like them!
Have a beautiful day!