Grilled Chicken Margherita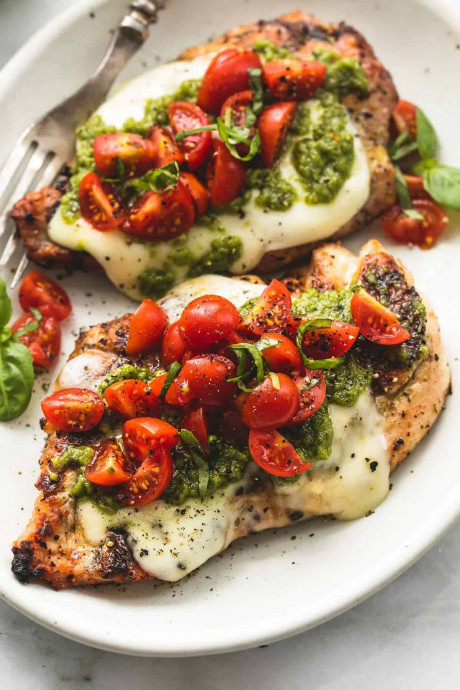 This super easy, Grilled Chicken Margherita is incredibly tasty and is ready in less than 30 minutes! Start with savory herb chicken and top it with with melty mozzarella cheese, pesto, and tomato basil garnish for a rave-worthy, quick and simple weeknight dinner.
This chicken dish is a popular one that features cheese, cherry tomatoes, and basil pesto. Think of a margherita pizza: you have pesto sauce (or marinara), topped with mozzarella hunks, and basil. Why this recipe works? Easy, fresh ingredients: made with chicken, cheese, tomatoes, and pesto (homemade or store bought), you can find all these ingredients year-round (though, admittedly, they are best in the summer).
Great leftovers: grill once, eat again and again! Just leave the toppings off any extra chicken and add later, when you're ready to eat! Easy substitutions: Use marinara if you don't like pesto, or use store-bought pesto if you don't want to make your own. Stays moist: The mozzarella cheese helps seal in the Italian seasonings and keeps the chicken from drying out, too! So it's like pizza on top of the chicken, except minus the crust, of course.
Ingredients:
4 boneless skinless chicken breasts, pounded to less than 1 inch thickness
salt and pepper to taste
2 tablespoons olive oil
1 teaspoon garlic powder
1 teaspoon Italian seasoning (OR 1/2 teaspoon dried oregano + 1/4 teaspoon dried basil + 1/4 teaspoon dried thyme)
4 slices mozzarella cheese
1/2 cup basil pesto (try my Easy 5 Minute Pesto Recipe - it's the best!!) https://www.lecremedelacrumb.com/easy-5-minute-pesto-15-ways-to-use-it/
1/2 cup cherry tomatoes, halved
1 tablespoon fresh lemon juice
1/2 cup packed basil leaves, very thinly sliced
cracked black pepper