Baked "Fried" Oreos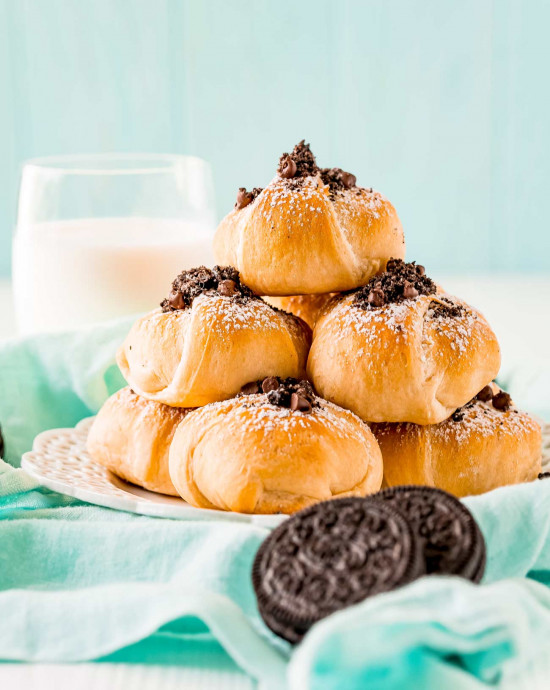 With just 2 base ingredients (plus a totally optional ingredient or two), these baked "fried" Oreos are an easier (and much less oily) version of your favorite fair food! This amazing dessert is sure to be a family favorite!
Fried, gooey goodness! While these baked "fried" Oreos are deep fried, they hit a lot of those yummy flavor notes. Plus, they're relatively mess-free, hassle-free, and are a bit healthier.
I haven't specifically tested this recipe in my air fryer, so I can't speak to what temperature to fry at or how long to cook. I do feel this recipe would do well in an air fryer, so if you feel adventurous, give it a try and let me know how it went! Rather than wrapping up the Oreo cookie like a traditional crescent roll, you can alternatively not unroll the crescent roll dough at all. When you open the can, keep the dough rolled up in the can shape, then using a sharp knife, slice the log into 8 equal-sized pieces.
Smash those pieces into a circular shape, then place a cookie in the center. Wrap the dough up around it. Continue with recipe as directed. If you prefer a softer texture to the cookie inside, try dunking the Oreo in some milk before wrapping it up. Chocolate lover? Try dipping the cookie in some melted chocolate before wrapping it!
Ingredients:
8 Oreo cookies plus an additional cookie for making crushed topping (if using)
8 oz can crescent rolls
powdered sugar optional
mini chocolate chips optional
crushed Oreo cookie optional