Cooking Beans and Legumes + Burrito Recipe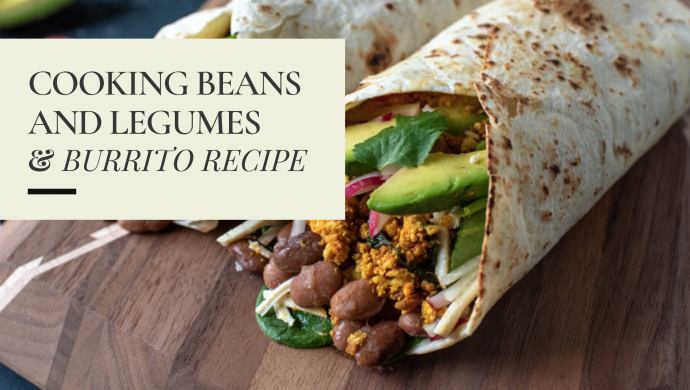 Beans and legumes are a high-fiber, low-calorie, low-fat, low-sodium, and cholesterol-free food. They are also relatively high in protein, amino acids, vitamins, and minerals. If you have time to soak and prepare a pot of beans, you will save on the packaging of the canned products.
Before you cook legumes, it is recommended to clean them thoroughly, rinse them well, and soak them overnight. This improves their digestibility and reduces gas. Other methods for improving digestibility include adding some fennel seeds, a handful of brown rice, or a few strips of the sea vegetable kombu to the legumes while cooking. If you do not have time to soak the beans overnight, a quick method to soften them is to bring the beans plus water four times their volume to a boil, remove from the heat, cover, and allow to sit for a few hours.
After soaking the legumes or boiling them in this way, discard the soak water, add the measured amount of vegetable stock or water to a thick-bottomed pot, bring to a boil, cover, reduce the heat to a simmer, and cook until tender. Do not add salt to the cooking liquid; it can make the legumes tough. Legumes are done cooking when they are tender but not mushy. They should retain their original shape.
Below you may find a printable chart with the proportions and times for cooking dried legumes.
And let me share with you of of my favorite easy recipes – breakfast burrito!
This is the ultimate solution for a family breakfast. I suggest to use the largest whole-grain flour tortillas possible for the big burrito but you may take any. Experiment with different beans and cheeses as the filling. For best results, and if you have the time, serve with guacamole, salsa, and sour cream or any other sauce you like.
Ingredients
1 (15-ounce) can black beans, or 11⁄2 cups cooked
2 to 3 small tomatoes
1 Fresh avocado
1 teaspoon chile powder
1 teaspoon ground cumin
2 garlic cloves, pressed or minced (optional)
1 small jalapeno seeded and minced (optional)
1⁄4 cup minced fresh cilantro
4 to 6 large tortillas
For Tofu Scramble
11⁄2 tablespoons safflower oil
1 cup yellow onion, chopped small
4 medium-size garlic cloves, pressed or minced
1 pound extra-firm tofu, crumbled into large chunks
3⁄4 teaspoon powdered turmeric
3⁄4 teaspoon paprika
11⁄2 teaspoons soy sauce, or to taste
Sea salt and black pepper
Directions
Step 1
Preparing Tofu Scramble: Place the oil in a large pan over medium-high heat. Add the onion and garlic and cook until the onions are soft, about 3 minutes, stirring frequently. Add the tofu. Cook for 5 minutes, stirring frequently. Add paprika, turmeric, soy sauce and cook 3–5 minutes more, season to taste.
Step 2
Check the Bean guide attached. Cook the beans. Add the chile powder, cumin, garlic, and jalapeno, if using. Cook for 10 minutes, stirring occasionally. Add salt to taste.
While the beans are cooking, prepare the Tofu Scramble. Chop the tomatoes and mince the cilantro. Heat a tortilla on a skillet or in a pan until warm.
Place about 1⁄2 cup of the Tofu Scramble, 1⁄4 cup of beans, and your desired amount of tomato, avocado and cilantro in the center of the tortilla. Fold in the sides and roll away from you. For a nice presentation, slice in half diagonally before serving.
Variations
Replace the Tofu Scramble with any cheese you like.
Try with pinto, kidney, or your favorite beans.
Do you like legumes and beans? Have you ever experiences any troubles with cooking them? Tell me in comments!
Have a great day!