Honey Mustard Pork Chops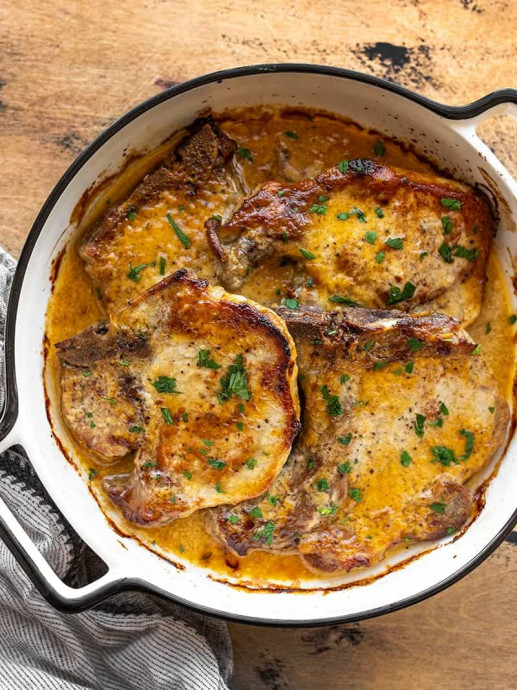 Simple homemade sauces (or glazes) are your secret weapon in the kitchen. They're the easiest way to turn a boring piece of meat into something really mouthwatering and amazing. Case in point: Honey Mustard Pork Chops. This particularly awesome sauce is a mix of honey, Dijon mustard, a little mayo for creaminess, and a few spices. Smear that awesome sauce on a some pan seared pork chops, pop them in the oven to heat through, and then finish them off with a few minutes under the broiler. The end result is creamy, caramelized, honey mustard madness. Madness in a good way, of course.
Pork chops are delicate flowers. If you over bake them, they get tough and dry, so you really have to pay them some attention. This is where cooking intuition comes in handy. I've provided a general estimated bake time in the recipe below, but the total time needed to get the internal temperature of the pork chops up to 145ºF will vary depending on several factors. The thickness of your pork chops will greatly determine how long they need to bake, as will the amount of time they spent in the skillet while searing. The longer they're in the skillet, the less time they'll need in the oven. So keep these things in mind as you cook your chops and I wish you all the most juicy and tender pork chop success!
Ingredients:
1/3 cup mayonnaise
2 Tbsp Dijon mustard
2 Tbsp honey
1/8 tsp garlic powder
1/4 tsp smoked paprika
1/4 tsp salt
1/4 tsp Freshly cracked pepper
1 Tbsp cooking oil
4 bone-in pork chops, one-inch thick (about 2.5 lbs.)