Instant Pot Au Gratin Potatoes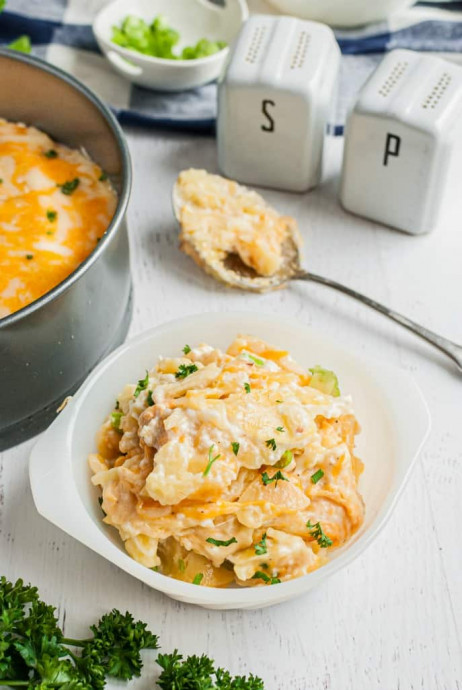 Creamy and cheesy Au Gratin Potatoes are easier to make than ever! Try these Instant Pot Au Gratin Potatoes next time you need a delicious side dish that the whole family loves. Is there anyone out there who can resist thinly sliced potatoes covered in creamy sauce and cheese? Just about any kind of potato and cheese combo is my kind of side dish but there's something specifically about Au Gratin Potatoes that's extra comforting.
Traditionally, potatoes au gratin are baked or broiled in the oven. When I discovered how easy it was to make the same delicious cheesy side dish in the Instant Pot I knew I needed to share the recipe with you! At first glance, these two potato side dishes look the same. Both are thinly sliced layers of potatoes baked (or, in this case, pressure cooked) in cream sauce. The difference is all in the cheese! Au Gratin Potatoes have lots and lots of gooey melted cheese layered between the sliced spuds. The result is an even creamier dish with a brown bubbly layer that makes the potatoes extra rich and delicious! I find most scalloped potatoes recipes involve fewer ingredients in general than au gratin potatoes, too. This version of this side dish includes plenty of garlic and a little red pepper for some kick.
Ingredients:
1 ½ lbs yuka gold potatoes washed and peeled
1 cup heavy whipping cream
1 cup milk
3 cloves garlic, minced
3 Tbsp all-purpose flour
1 ½ tsp kosher salt
1 tsp ground black pepper
¼ tsp crushed red pepper flakes
1 tsp dry mustard
1 cup gruyere cheese, shredded
¼ cup grated parmesan cheese
1 cup grated cheddar cheese