Homemade Caramel Apples + Topping Ideas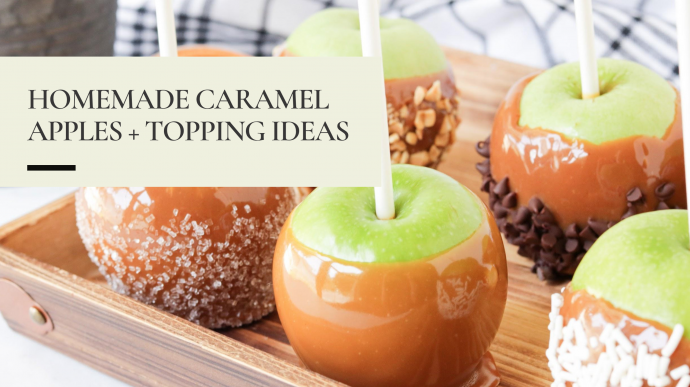 I know caramel apples are an especially popular dessert during the fall, but I crave caramel apples all year! It is a favorite family treat, we usually slice them up and share, and I'm happy to say my love for caramel apples has officially been passed down to the kids.
You can serve these the old-fashioned way, like a huge lollipop, or as sliced apples covered in caramel sauce. The latter method ensures a greater caramel-to-apple ratio. Traditionally caramel is made by heating white sugar, butter, and heavy cream to high temperatures. I like to think I've taken it a couple steps toward healthy with this version. So I am sharing with you today this super simple caramel apple recipe.
Ingredients for 4 candy apples
4 Pink Lady, Gala, or other apples
1 cup Silk creamer or soy milk
1⁄2 cup organic brown sugar
1 teaspoon vanilla extract
1 tablespoon arrowroot
1⁄4 cup water
2 tablespoons vegan butter
2 tablespoons pure maple syrup
1⁄2 teaspoon ground cinnamon
Pinch of sea salt
1 cup chopped toasted almonds or walnuts (or any other nuts you like)
Directions
Step 1
It is best that the apples be at room temperature so that condensation doesn't prevent the caramel from sticking. Either slice the apples or insert your desired handle (Popsicle sticks, bamboo skewers, or even forks do the trick) into the bottoms.
Step 2
Whisk the creamer, brown sugar, and vanilla in a medium-size pot over medium heat. Bring the mixture to a boil and simmer for 5 minutes. Whisk the arrowroot and water together and then whisk it into the sauce. Simmer for an- other 3 minutes, whisking occasionally. Add the vegan butter, maple syrup, cinnamon, and salt. Simmer for 2 more minutes and remove from the heat.
Step 3
Wait a few minutes for the mixture to start thickening and then pour the sauce over either the sliced or whole apples. Sprinkle with the toasted nuts, if using, or roll the whole coated apple in them. Let the whole apples cool in the fridge; the sliced apples can be eaten immediately.
Caramel apple topping ideas:
You can make you caramel apples truly gourmet by drizzling them with melted chocolate or adding other toppings. Be careful not to load them with too many toppings or the coating around the apple will become too heavy and may slide off.
Apple Pie: melted white chocolate over the caramel apple, sprinkled with a mixture of brown sugar and cinnamon.
Oreo: place crushed Oreos on the warm caramel, or coat the cooled caramel apples in melted milk chocolate or white chocolate and then add the crushed Oreos.
Nutty: add the mix of your favorite kind of crushed nuts!
Candy Bar: Add crushed candy bars to the caramel apples, like Reese's peanut butter cups, butterfingers, crushed M&M's, mini chocolate chips or snickers.
These beautiful dipped caramel apples will last for about 2 weeks, stored in the refrigerator.
What is your favorite caramel apple topping or do you love to just eat them with no topping? Share with me in comments below!