Crispy Beer Battered Fish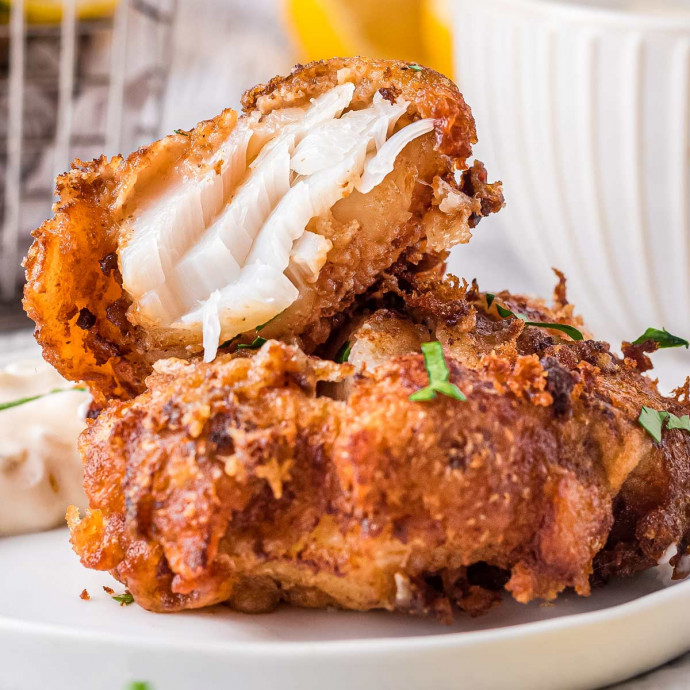 This Beer Battered Fish recipe is crispy and light, and made with an ultra simple batter. Perfect for any fish and chips feast, as well as a fish fry for Lent! There's something so enticing about that super crispy coating combined with the flaky white fish inside. And of course, you can't forget the tartar sauce. Homemade tartar sauce is much easier to make than you think, and so delicious!
Here you'll get recipes for both the sauce, and the fried fish. The beer batter is perfect for all kinds of fried foods. Pickles, green beans, onion rings, and more! Make sure you pat the fish fillets very dry. This is especially true if you're using frozen fish that you've thawed. That delicious beer batter just isn't going to stick to a wet piece of fish. Feel free to play around with the seasonings in this recipe. I kept it pretty simple; with the flavors we enjoy, but we all have different tastes. This recipe, like all fried foods, tastes best when made fresh. However, the cod can be sliced ahead of time (and kept refrigerated), and the flour mixture (without the beer) can be whisked together. This cuts down on some prep time involved.
Ingredients:
Tartar Sauce
1 cup mayonnaise
3 Tbsp finely chopped dill pickles
1 Tbsp finely minced sweet onion
2 tsp pickle juice
1/2 tsp Dijon mustard
1/4 tsp hot sauce optional
Frying
Fish
2 lbs. fresh cod sliced into pieces about 1 inch wide and 3-4 inches long
1/2 tsp kosher salt
1/2 tsp black pepper
Beer Batter
1 cup all purpose flour
1 1/2 tsp seasoned salt
1/2 tsp black pepper
1 Tbsp garlic powder
2 tsp paprika
1 tsp onion powder
1 large egg lightly beaten
12 oz lager-style beer