Bean And Cheese Burritos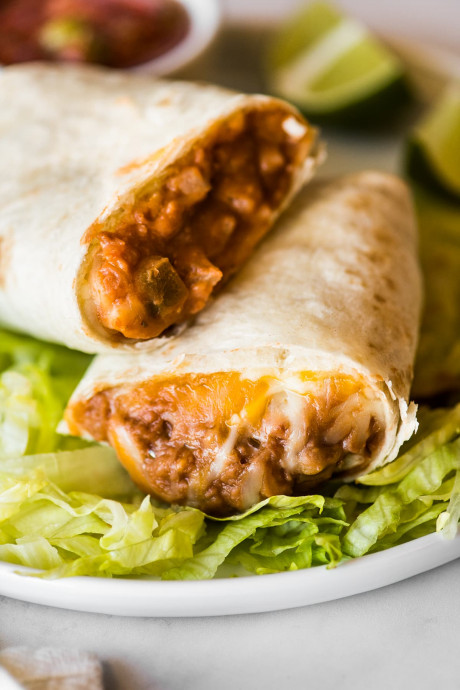 Classic bean and cheese burritos filled with flavorful and creamy refried beans, diced onions, and two types of shredded melty cheese! Ready in less than 30 minutes, these burritos are great for making ahead, meal prep, and even freezing for later. Bean and cheese burritos are an absolutely amazing! They always hit the spot and make a super easy lunch or dinner that's ready to eat in no time.
While this recipe are fairly easy to make, here are some helpful tips and variations that could also work: Don't feel like turning on the stove? You can toast the burritos on the stovetop instead! Simply heat a large skillet over medium-high heat. Place the burritos seam side down in the skillet and cook on both sides until toasted and heated through. I like serving these burritos on a bed of shredded lettuce alongside some guacamole and some hot sauce or extra salsa. You can also add a dollop of sour cream, or even serve with Mexican rice for a filling dinner.
Ingredients:
1 (16-oz) canned Beans
1/2 cup chunky salsa
1/4 medium onion, diced
1/2 teaspoon smoked paprika
1/2 teaspoon garlic powder
1/4 teaspoon kosher salt, plus more to taste
1/4 teaspoon black pepper
1/2 cup shredded cheddar cheese
1/2 cup shredded monterey jack cheese
4 (10-inch) flour tortillas (often referred to as "burrito-sized")