Cherry Garcia Cookies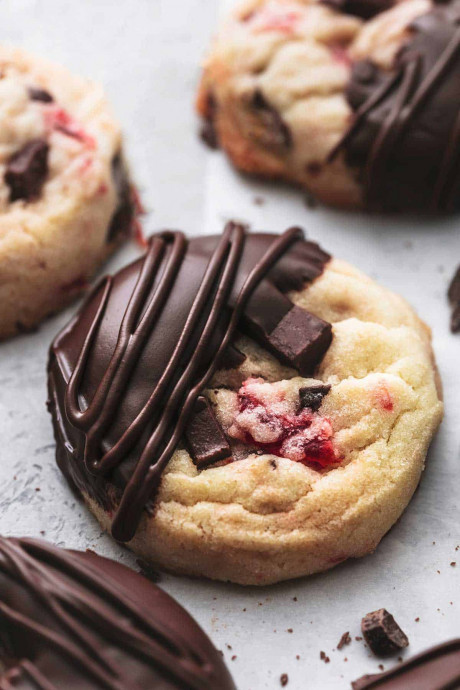 It's almond, chocolate, and cherry heavy in these amazing shortbread-style cookies inspired by the famous Ben and Jerry's ice cream flavor, Cherry Garcia!
For these shortbread cookies, I wanted to meld all the cherry flavors and chocolate flavors and pack them together by using both maraschino cherries, cherry extract, and chocolate chunks in the cookies (plus a hint of almond), and then went ahead and dipped them again in chocolate for a cookie that is out-of-this-world delicious!
Dip the cooled cookies into the melted chocolate and then place on wax or parchment paper to cool and dry. You can dip half the cookie or just the top — up to you! Take your cookies to the next level by drizzling even more chocolate over the top of the chocolate after you dip (using milk or white chocolate), adding slivered almonds on top of the melted chocolate, or adding even more chopped cherries on top of the melted chocolate before drying. Perfect for true chocolate lovers!
Ingredients:
1 12-ounce jar maraschino cherries, drained, finely chopped, and squeezed dry see note
1/2 cup butter, softened
1/2 cup vegetable oil
1/2 cup granulated sugar
1/2 cup powdered sugar
1 large egg
1 1/2 teaspoons almond extract
1 teaspoon cherry extract see note
2 1/4 cups flour
1/2 teaspoon baking soda
1/2 teaspoon cream of tartar
1/4 teaspoon salt
2 cups semisweet chocolate chunks or chips divided
1 teaspoon vegetable oil