Garlicky Mushroom Bolognese with Fettuccine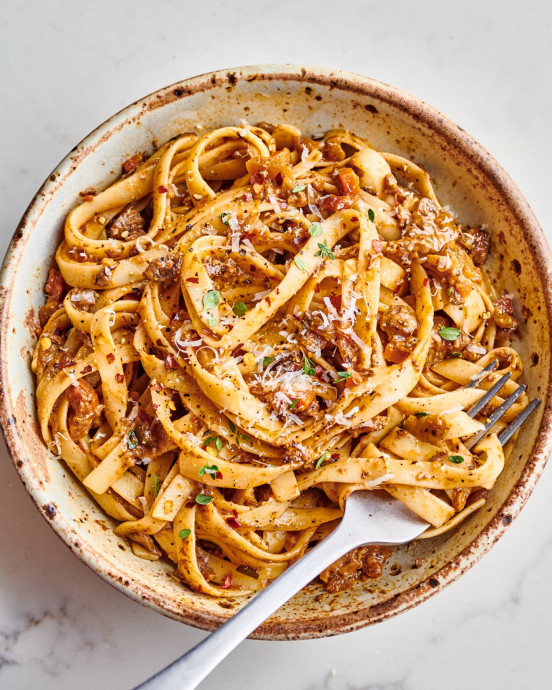 When I think of the ultimate comfort food, I think of a hearty sauce bubbling away on the stovetop. I can practically smell the carrots, celery, and onions mingling with a flavorful cut of meat in a large Dutch oven, slowly transforming into a rich and hearty pasta sauce. It's everything I love about a classic, slow-cooked Bolognese — without the meat (and in a little less time, too). Its surprising depth of flavor and meditative cooking process has helped me fall back in love with cooking, and I'm certain it can do the same for you, too. In addition to fresh cremini mushrooms, this Bolognese is made with rehydrated porcini mushrooms and their soaking liquid. The dried mushrooms give the sauce an ultra-savory boost that greatly amps up the flavor of the fresh mushrooms. If you've never cooked with dried mushrooms before, it's easy: A 20-minute soak in hot water is all they need to rehydrate. As they soak, you can prep the rest of your ingredients.
If you want to make this recipe vegan, feel free to use a non-dairy milk (such as unsweetened plain oat, coconut, or almond milk) in place of the cream, swap the butter for olive oil, and omit the cheese. It might not be as creamy, but it will be just as flavorful. As for serving, I love any long noodle like fettuccine. But if your pasta isn't your thing, you can serve this Bolognese over a bowl of soft polenta for an equally hearty meal.
Ingredients:
1 1/2 cups boiling water, plus more for cooking the pasta
1 ounce dried porcini mushrooms (about 3/4 cup)
3 cloves garlic
1 medium yellow onion
1 large carrot
2 medium celery stalks
1 pound fresh cremini mushrooms
2 teaspoons fresh thyme leaves
1 teaspoon fresh rosemary leaves
2 ounces Parmesan cheese, finely grated (about 1 cup or 1/2 cup store-bought grated), divided
3 tablespoons olive oil
3 tablespoons unsalted butter
1 (14.5-ounce) can whole tomatoes (or half a 28-ounce can)
3/4 teaspoon kosher salt, plus more as needed
1/2 teaspoon freshly ground black pepper, plus more as needed
1/4 teaspoon red pepper flakes
1/4 teaspoon ground nutmeg
1/2 cup dry red wine
1/2 cup whole milk
1 pound dried fettuccine pasta