White Chocolate & Raspberry Shake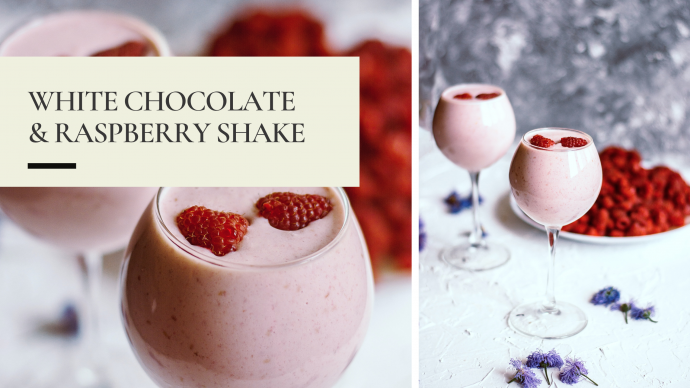 Fresh raspberries and white chocolate are a great combination and they come together perfectly in this refreshing milkshake. Top it all off with whipped cream and crushed white chocolate and you have a truly decadent Summer treat! Adjust the sweetness to your liking and enjoy!
Ingredients
1 cup fresh raspberries
1 tablespoon granulated sugar
1 teaspoon lemon juice
½ cup white chocolate, broken into pieces
4 scoops of vanilla ice cream
¼ cup milk
whipped cream
fresh raspberries for garnish
fresh mint for garnish
Directions
Step 1
For the Raspberry Sauce; add raspberries, sugar and lemon juice to food processor and puree until smooth. Pour the puree through a sieve to remove seeds and place to the side.
Step 2
Place broken white chocolate in a microwave safe dish and microwave at 20 second intervals stirring until completely melted and smooth. Alternatively melt over a bowl of hot water ensuring the water does not touch the bowl. Place to the side to cool.
Step 3
Add the ice cream, milk and cooled white chocolate to food processor and blend until thick, creamy and smooth (feel free to add more ice cream or milk until you get the consistency you prefer).
Step 4
Drizzle raspberry sauce around milkshake glasses then pour the milkshake mix into glasses and give everything a stir to swirl the two together.
Step 5
Mix the whipped cream with two thirds of the crushed white chocolate raspberries and then use to top the milkshake. Sprinkle liberally with the remaining crushed chocolate coated raspberries and, for the final touch, add some fresh raspberries and a sprig of mint.
Tips
Go creative and substitute vanilla ice cream for the banana. You may want to adjust the sweetness, so add the agave last and only as much as you like.
Add your favorite berry. Blueberries, black berries, cherry and mixed berries are now available fresh and frozen.
And what is your favorite summer beverage?
Have great day!