Cheesy Garlic Scapes Biscuits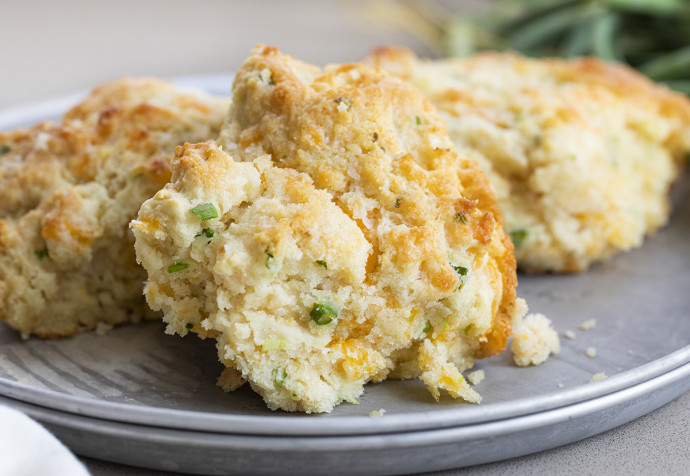 Cheesy Garlic Scapes Biscuits are soft, buttery, and cheesy biscuits that are made with garlic scapes for just the right amount of garlic flavor in each bite. Try my Cheesy Garlic Bread for another cheesy, garlicky bread.There is nothing better than a pan of homemade biscuits, especially cheesy biscuits! Topped with butter and salt, these biscuits are baked to perfection in a pie pan. The trick to these biscuits is grating the butter and putting it in the freezer until you are ready to use it. I used this same method in my homemade buttermilk biscuits recipe.
Garlic scapes are the curly green stems that grow above ground as the garlic bulbs grow underground. Because they are twisty and curly, they are sometimes referred to as 'serpent garlic'. Garlic scapes still have a garlicky taste, but not quite as strong as a garlic bulb.
They can be used in any recipe that calls for regular garlic, so go ahead and get ahold of some garlic scapes (usually found at farmer's markets) when you can! Just cut off the pointy tip before you use them. If you can't find garlic scapes, you can substitute with half the amount of minced garlic. So, in this recipe, you would use 1 1/2 tablespoons of minced garlic in place of the garlic scapes.
Ingredients:
6 tablespoons butter, frozen
2 cups (250g) flour
1 tablespoon baking powder
1 teaspoon baking soda
1 teaspoon salt (if you don't like salt, use 1/4 tsp)
3 tablespoons garlic scapes, finely diced
2 tablespoons scallions, finely diced
1 cup cheddar cheese, grated
1 cup (245g) buttermilk, cold
Topping
2 tablespoons butter
1/2 teaspoon sea or kosher salt (if using table salt, use less)