Banana Chocolate Chip Layer Cake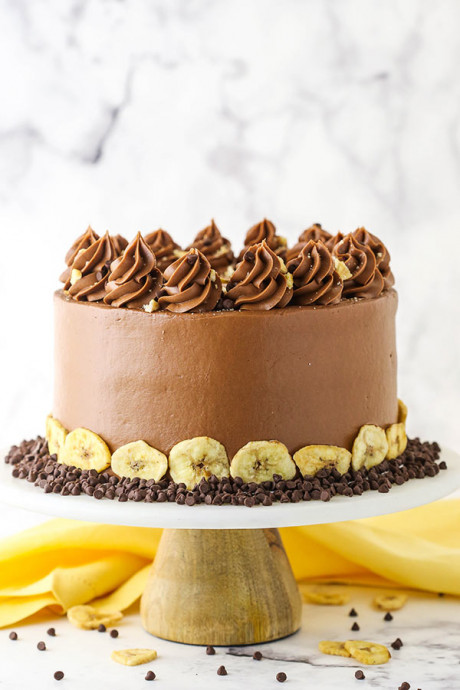 If you like the sound of a soft and moist banana cake layered with rich chocolate cream cheese frosting, then you'll love this Banana Chocolate Chip Cake! It's such an easy dessert that never fails to hit the spot.
This recipe makes a supremely decadent cake with minimal effort! It's like a loaf of chocolate chip banana bread in layer cake form, but better. This cake is very light and tender! There are chocolate chips in the cake and cocoa powder in the cream cheese frosting. Chocolate lovers, you're in for a treat!
If you have a bunch of old and sad bananas lying around, this is a fool-proof way to turn them into something spectacular. You'll be mashing them up, so they're supposed to be speckled brown and overripe, but not totally mushy. There are 4 to 5 bananas packed into this bad boy, and they make the cake so incredibly soft and moist. This chocolate chip cake turns basic ingredients into an extraordinary banana treat! And the frosting is so simple, yet rich, creamy and chocolatey.
Ingredients:
2 1/2 cups (325g) all purpose flour (341)
1 1/2 tsp baking powder
1/2 tsp baking soda
1 tsp ground cinnamon
1/2 tsp salt
1/2 cup (112g) unsalted butter, room temperature
1/2 cup (120ml) vegetable oil
1 cup (225g) packed light brown sugar
1/2 cup (104g) granulated white sugar
1 tsp vanilla extract
3 large eggs
1 large egg white
1 3/4 cups mashed overripe banana (4–5 bananas)
1 1/4 cups (211g) semi sweet chocolate chips
FOR THE CHOCOLATE CREAM CHEESE FROSTING
16 oz (452g) cream cheese, room temperature
3/4 cup (172g) butter, room temperature
9 cups (1035g) powdered sugar
1/2 cup (58g) natural unsweetened cocoa powder
2 tsp vanilla extract