Oven Baked German Pancakes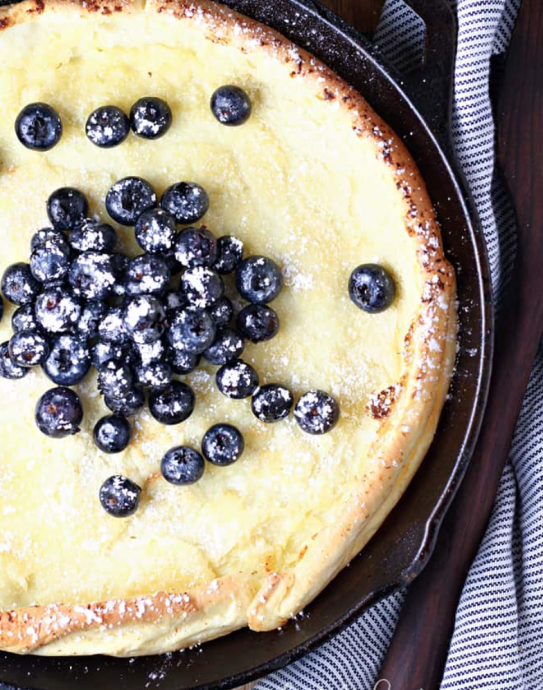 Oven baked German pancakes — a simple mixture of eggs, milk and flour is baked up in a buttery pan until it's light and fluffy. Serve for breakfast, lunch or dinner with syrup, fruit, or just a sprinkling of powdered sugar.
Whether I'm serving them for breakfast, lunch or dinner, these German Oven Baked Pancakes are one of my family's all time favorite meals! Which is fine by me, because they are easy to make, inexpensive, and delicious. And there are so many fun and tasty ways to top them off–including syrup, fruit and whipped cream, cinnamon and sugar, or all three! I really can't express how much my family loves these pancakes. They would choose them for breakfast over pancakes, waffles, French toast and any other breakfast food you can think of.
Honestly, I think I make them for dinner more than I do for breakfast. I always have the ingredients on hand, and no matter how tired I am, or how much I don't feel like cooking, I can pretty much make these pancakes in my sleep. These definitely aren't like traditional pancakes. They have more of an egg-like texture–almost like a thick crepe. But they are way easier to make than crepes! My favorite part is how these pancakes puff up in the oven. They do tend to deflate a bit when you take them out of the oven, but the edges usually stay puffed, and a little bit crisp.
Ingredients:
4 tablespoons butter, divided
2/3 cup milk
1/2 cup flour
3 eggs
1/2 teaspoon vanilla
1/4 teaspoon salt
1 tablespoon lemon juice
Powdered sugar, syrup or fruit, for topping