Spinach Pie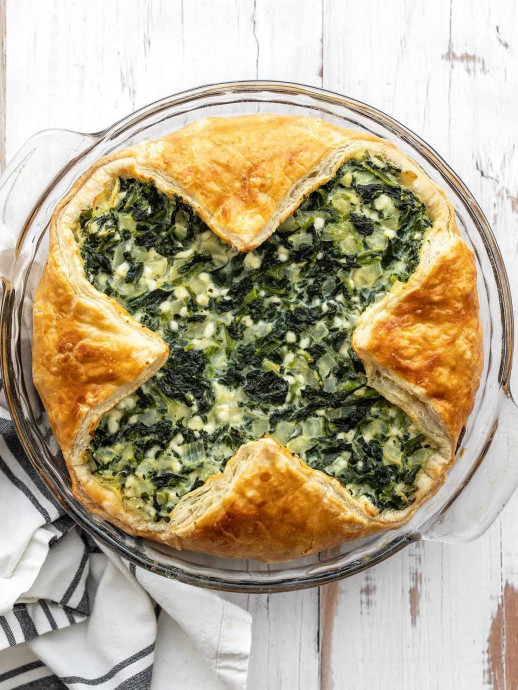 This spinach pie is inspired by spanakopita, which is a savory Greek pie made with phyllo dough, feta, and spinach. To make my spinach pie a little easier, I used a couple of short cuts: frozen spinach and frozen puff pastry dough. And then to keep the price on the lower side, I replaced the feta with cottage cheese (totally not similar cheeses, but it works here). The result is fast, easy, and still oh so delicious!
This is another one of those recipes that can take a lot of fun add-ins. Try tossing in some chopped sun dried tomatoes, or maybe some cooked bacon. Or how about some feta cheese or roasted red peppers? A little bit of dill would also take the flavor up a notch!
I absolutely love spinach pie. It's rich, but not quite as heavy as a quiche, it has a deliciously flakey crust, and it works as a savory breakfast, brunch, or just anytime meal. It's so good that I literally can't wait to eat the leftovers, even though I know that puff pastry isn't going to be crispy anymore. It just tastes so good.
Ingredients:
1 sheet puff pastry
1 lb. frozen chopped spinach
1 yellow onion
1 clove garlic
1 Tbsp olive oil
1 cup cottage cheese
1/4 cup grated Parmesan
1/8 tsp nutmeg
1/2 tsp salt
1/4 tsp freshly cracked black pepper
3 large eggs, divided