Takeout Sesame Noodles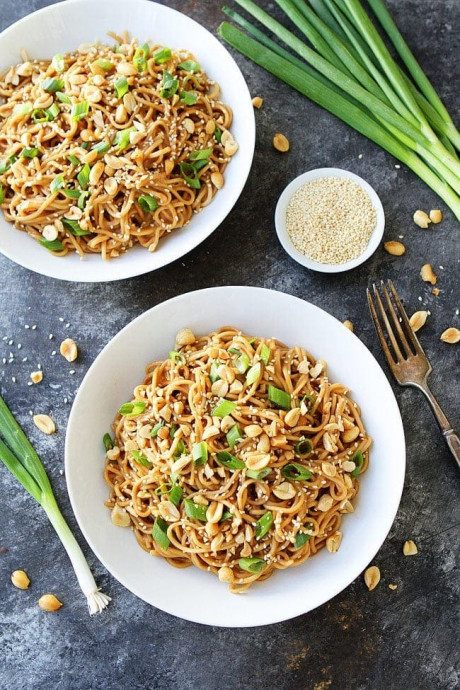 Sesame noodles with an amazing asian peanut sauce are easy to make at home, you only need 20 minutes, and they taste even better than takeout! They are great served warm or cold!
We don't do takeout very often because we love cooking and have found that we can make our favorite takeout dishes at home…and our versions always taste better. Plus, our dishes are healthier and we always save time and money. Time? Yes, because by the time you drive to pick up the food and come home, you could have made dinner at home. For example, this Sesame Noodle recipe only takes 20 minutes to make and these noodles are WAY better than any noodles I have ever ordered at a restaurant.
This easy sesame noodle recipe comes from chef chloe's new cookbook, chloe flavor, and they are the best sesame noodles. The asian peanut sauce is amazing! So amazing you will probably want to drink it before you even pour it over the noodles. And pro tip-we always keep fresh ginger in our freezer in a small freezer bag. It is easy to grate when it is frozen and it lasts longer! You make the sauce in a blender and it blends up in no time! So simple!
Ingredients:
10 ounces udon noodles can use soba or spaghetti
3 tablespoons toasted sesame oil
1/4 cup tamari or lite soy sauce
1/4 cup seasoned rice vinegar
3 tablespoons peanut butter
2 tablespoons light brown sugar
1 tablespoon minced fresh ginger
Half a garlic clove
2 teaspoons sriracha plus more to taste
Toppings: chopped roasted peanuts thinly sliced scallions, sesame seeds