Vanilla Custard Cookie Cups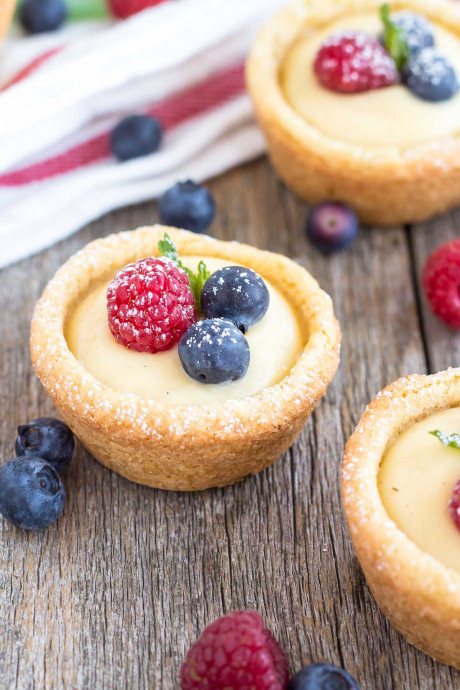 Bite-sized sugar cookie cups filled with a vanilla custard and topped with fresh berries. Not sure about you, but I am ready for spring. Like, SO ready. We had so much snow this winter it's not even funny. For a place that rarely gets snow at all, it's been a littler ridiculous. Sadly, we still have some time to go before those spring flowers make their debut, so I'm bringing a bit of spring and sunshine to you today with these Vanilla Custard Cookie Cups!
These Vanilla Custard Cookie Cups are a little different from the other cookie cups, which typically use a cheesecake and whipped cream filling. These ones use a delicious vanilla pastry cream as the filling. Pastry cream (aka vanilla custard) is often used as a filling for various baked goodies — like eclairs or Boston cream donuts. It involves a few simple ingredients: milk, egg yolks, vanilla, sugar, and cornstarch as a thickener. Heat up the milk, whisk it into the egg yolks and cornstarch, cook till it boils, strain, and cool.Like the filling, the cookie cup base here is also a little different than my other cookie cups (but only slightly). I wanted it to be lighter and more like a sugar cookie, so I used only granulated sugar and no light brown sugar. I think they came out pretty perfect!
Ingredients:
Cookie Cups:
2 1/4 cups all-purpose flour
1/2 tsp baking soda
1 tsp salt
1 cup unsalted butter room temperature
1 1/2 cup granulated sugar
2 large eggs room temperature
2 tsp vanilla extract
Vanilla Custard:
4 cups milk
1 tsp vanilla bean paste
1/2 cup cornstarch
2/3 cup granulated sugar
4 large egg yolks