Sheet Pan BBQ Meatballs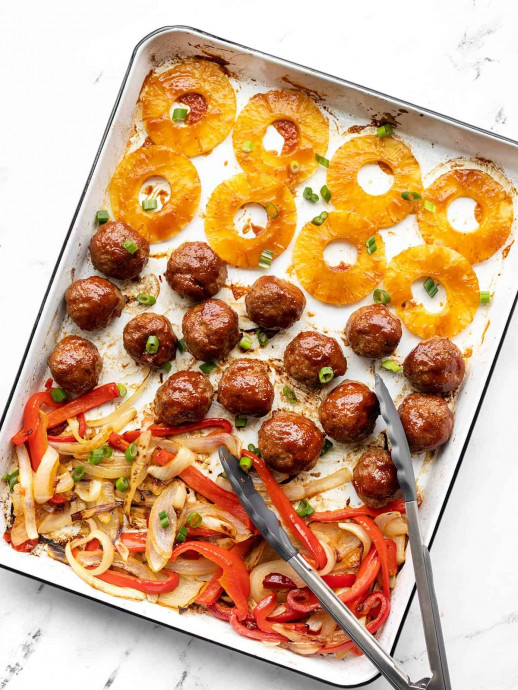 We all love meatballs, right? Well I'm also a huge fan of cooking things on a sheet pan. So I decided to bring these two favorite things of mine together to make these Sheet Pan BBQ Meatballs, complete with roasted peppers and onions, and big slices of sweet pineapple. This meal is delicious, easy, and packs up well for meal prep! While you can do this all on one sheet pan, you'll definitely get better results using two pans. Why? Because the peppers and onions caramelize better when they have room to breathe. If they're too crowded, the steam will get trapped they'll just get kind of soft instead of having those nice brown flavorful edges. Of course, if convenience is your priority, you may choose to use one pan.
You can use any meat! These meatballs work great with ground pork, beef, or chicken instead of the ground turkey listed in the recipe below.
You can line the sheet pan if you want. I ended up lining the sheet pan I used for my meatballs with parchment paper and left the sheet pan with the peppers, onions, and pineapple unlined. Lining the sheet pan makes clean up a lot easier, but you do get less caramelization since the vegetables are not in direct contact with the hot pan. So, if you prefer easy clean up, go ahead and line both pans. If you prize flavor over convenience, leave the pan (or pans) unlined. These Sheet Pan BBQ Meatballs are easy, colorful, and delicious. Plus the leftovers hold up great, so they're meal prep friendly!
Ingredients:
MEATBALLS
1 lb. ground turkey
1 large egg
1/4 cup breadcrumbs
6 Tbsp BBQ sauce, divided
1/4 tsp garlic powder
1/2 tsp smoked paprika
1/2 tsp salt
SIDES
1 20oz. can pineapple slices (in juice)
1 yellow onion
1 red bell pepper
1 Tbsp cooking oil
1/8 tsp salt
2 green onions, sliced
1 cup long grain white rice (uncooked)