Instant Pot Cabbage Soup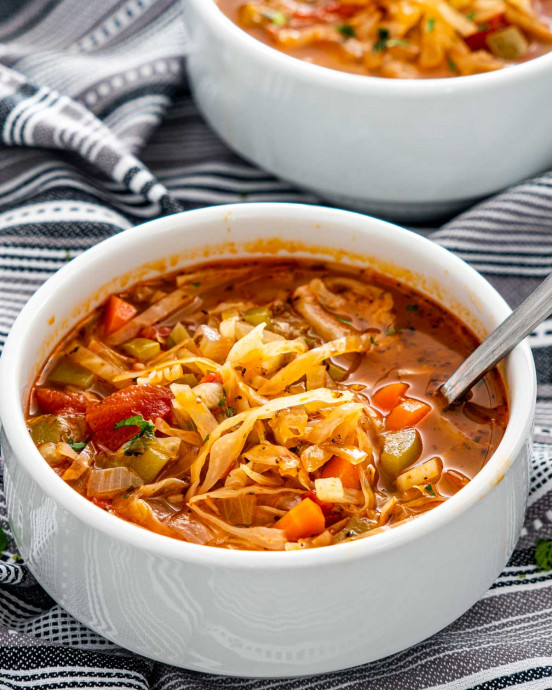 This Instant Pot Cabbage Soup hosts a rich tomato broth and loads of veggies. It's hearty, delicious, good for you and so easy to make thanks to the instant pot! Soup is one of my go-to comfort foods, and cabbage soup is at the top of my list. This soup is nostalgic to me, as it's one I grew up eating a lot. I wanted to make a similar version, one that was quick and easy – because you know I'm all about quick and easy; which is why I came up with this Instant Pot Cabbage soup! All of the flavor, ready in just a bit over 30 minutes!
Instant pot cabbage soup is easy and quick to make – takes 39 minutes total and requires a simple ingredient list. It can be made in advance – freezer friendly, one pot recipe, comforting, hearty, flavorful and good for you.
Made entirely in the instant pot, this easy soup recipe is so flavorsome, thanks to the simple ingredient list! We are letting those natural flavors shine. Not only is it packed with flavor, it's also loaded with tons of veggies, making it healthy as well! Healthy comfort food? You better believe it! You can freeze this soup in individual servings, which is perfect for bringing to work for lunch! I recommend freezing this soup in airtight containers or heavy-duty freezer bags. Properly stored your cabbage soup will last in the freezer for about 2 to 3 months.
Ingredients:
¼ cup olive oil
1 large onion chopped
2 medium carrots peeled and chopped
1 medium bell pepper chopped
3 cloves garlic minced
½ medium cabbage shredded or chopped
2 tsp Italian seasoning
1 tsp sweet paprika
1 tsp salt or to taste
1 tsp pepper or to taste
½ tsp red pepper flakes
14.5 oz diced tomatoes 1 can, or fire roasted tomatoes
2 bay leaves
8 cups chicken broth or vegetable broth
Garnish
1 tbsp fresh parsley chopped