Chicken and Bacon Fried Rice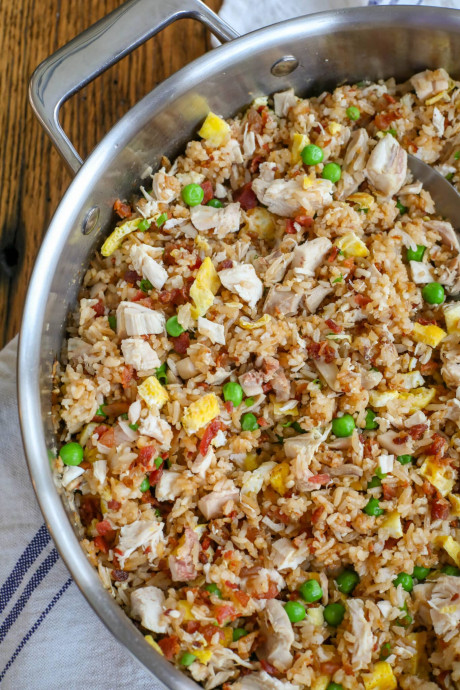 This Chicken and Bacon Fried Rice has been declared by my family as the best "unplanned and amazingly delicious" meal to come out.
Initially made on a whim one night when I had leftover rice in the fridge, I've been making it on repeat for months now and finally was able to get some photos so that I can share it with you. There really aren't many meals that top the convenience of combining leftover rice with leftover chicken in a way that delivers so much deliciousness.
Chicken fried rice has become such a staple on our weeknight dinner plans, I regularly double or triple the amount of rice needed for a meal, just to make sure there is plenty leftover for a fried rice dinner too. And for the easiest "leftover" chicken ever, I often pick up a rotisserie chicken at the store. Can you go wrong adding bacon to fried rice? I say that it's impossible. As evidenced by this mouthwatering Chicken and Bacon Stir Fry that we've been making for almost ten years now, the combination of chicken + bacon + Asian flavors is absolutely fantastic. Tender chicken, salty bacon, along with bites of egg, onion, and peas in a very flavorful rice skillet? Oh yeah, you need to make this.
Ingredients:
2 tablespoons bacon grease, or the oil of your choice, divided
3 eggs beaten
5 cups COLD cooked rice
1/4 cup low-sodium soy sauce, plus more for serving
1 tablespoon sesame oil
1/2 teaspoon freshly ground black pepper
3 cups cooked chicken, cut into 1/2-inch pieces
1 cup cooked and crumbled bacon, about 1 lb bacon
2/3 cup frozen peas
3 green onions sliced thin
optional: kosher salt only as needed.