Butter Parmesan Gnocchi with Squash, Corn & Tomatoes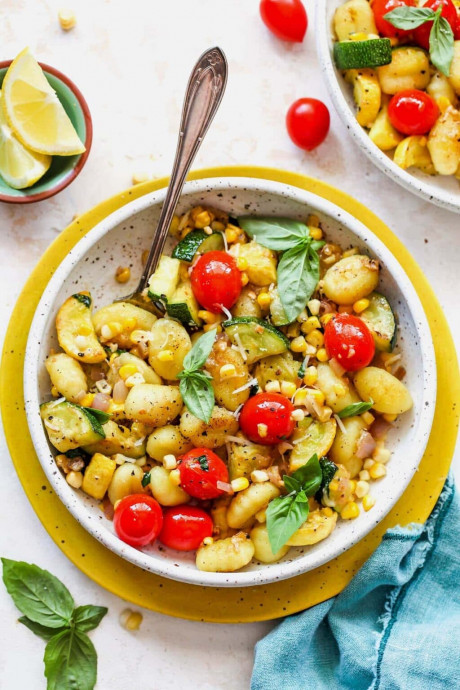 Butter Parmesan Gnocchi with Squash, Corn, & Tomatoes is a great quick and easy weeknight meal and is especially delicious during the summertime when produce is at it's peak!
I can't get enough of this Butter Parmesan Gnocchi with Squash, Corn, and Tomatoes dish. It is comforting and delicious, but also filled with lots of summer veggies and finished with fresh basil.
It's the perfect balance of buttery, cheesy goodness and healthy vegetables. It's become a family favorite around here, and everyone always asks for seconds!
If you aren't already familiar with this Italian pasta then prepare to fall in love! We love using gnocchi for easy dinners. My boys always beg for this sheet pan gnocchi and baked gnocchi. Gnocchi are like little mini dumplings. They're made with cooked mashed potatoes mixed with flour, egg, and salt. Gnocchi is pretty easy to make on your own, but for this recipe, I buy dried gnocchi. You can find it in the pasta aisle. And a pro tip: it's pronounced nyow-kee.
For this recipe, I like to make crispy gnocchi. The gnocchi stays soft on the inside and nice and crispy on the outside. Ooh, it's yummy! Here are my tips for achieving crispy gnocchi, don't worry, it's easy!
Ingredients:
16 oz gnocchi
3 tablespoons salted butter, divided
1 small zucchini, chopped
1 small yellow squash, chopped
3 cloves garlic, minced
1 shallot, minced
Kosher salt and black pepper, to taste
1 cup fresh sweet corn (can use frozen corn)
1 cup grape tomatoes
1/3 cup freshly grated parmesan cheese
1/4 cup chopped basil