Mini Chicken Pot Pies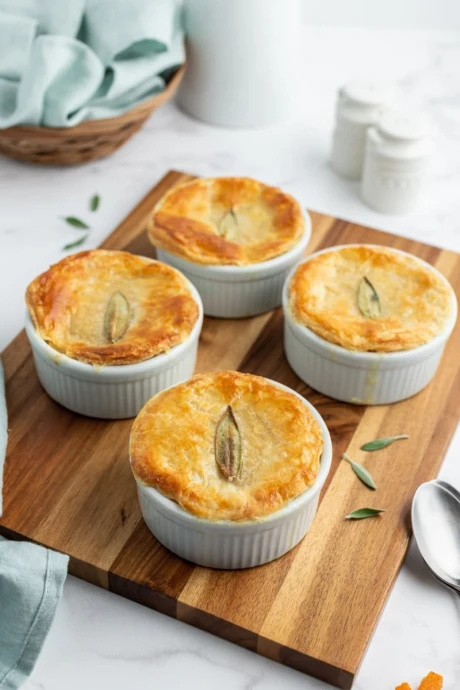 Mini Chicken Pot Pies are the perfect portion-sized dishes of this favorite comfort food pie.
Making mini Chicken Pot Pies is a great use of leftover roasted chicken with added roasted vegetables, a light creamy sauce and puff pastry. When you buy or make a roasted chicken for dinner, use your fingers to get in there and get the leftovers of that chicken and save it for this recipe! Alternately, you can use shredded turkey in place of the chicken.
The first thing you'll do in this recipe is to roast the vegetables. The veggies are tossed with olive oil and given a sprinkle of salt and pepper. They're roasted for about 25 minutes, until they're softened. Use small baking dishes or 8-ounce ramekins to cut circles out of puff pastry. This will be the top-crust for these mini chicken pot pies. The filling is so delicious! Lemon juice, the roasted veggies, chicken, fresh basil, salt and pepper are mixed in to complete the filling for the mini chicken pot pies. Perfect for breakfast!
Ingredients:
1½ cups finely chopped butternut squash
½ cup finely chopped onion
½ cup finely chopped carrot
1 cup finely chopped red potatoes
1 tablespoon olive oil
salt and pepper
1 sheet frozen puff pastry, (thawed)
2 teaspoons unsalted butter
2 teaspoons olive oil
3 tablespoons all purpose flour
2 cups 2% milk
2 tablespoons freshly squeezed lemon juice
2 cups shredded chicken
roasted vegetables (above)
¼ cup chopped fresh basil
½ teaspoon salt
¼ teaspoon freshly ground black pepper
4 whole fresh sage leaves
1 large egg white, (beaten)