Bird's Nest Lemon Bundt Cake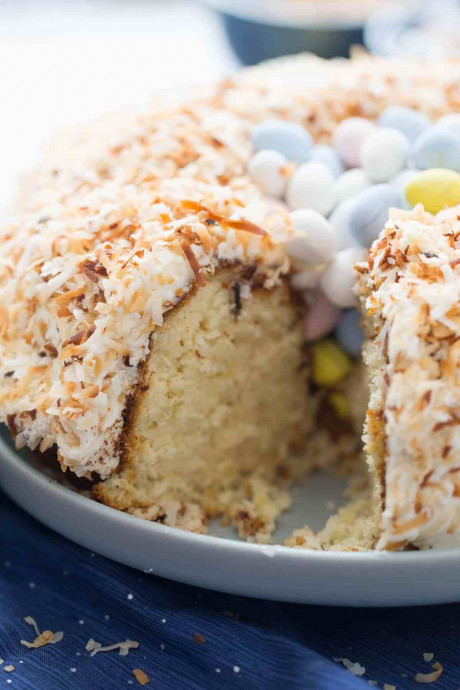 This Easter cake is for the birds! Well sort of. A subtle lemon bundt cake is covered in frosting, toasted coconut, and filled with little candy eggs! This recipe starts with a basic flavored bundt cake. I'm a huge fan of bundt cakes. Bundt cakes look deceptively impressive.
The bundt cake itself does not need to be refrigerated. However, the frosting is a different story. You can allow this cake to sit out for a few hours, but you will get more shelf life from this cake if you refrigerate it until needed. This cake is best when consumed within a day or two, as cakes can easily dry out once they are cut.
Store the cake covered in an airtight container for up to 5 days. Once the cake is cut, however, cover the cut ends with plastic wrap and then keep the whole cake covered. This will help with dryness. A cut cake can last 3-4 days when kept covered. Wrap an unfrosted (and cooled) bundt cake in plastic wrap then cover the cake in foil. Allow the cake to thaw before frosting.
This is such a great recipe for Easter, however, by removing or replacing the candies in the center, this cake can be used any time of year. This recipe does take some time, but the method is simple. Everyone loves this cake for its look and its bright flavors!
Ingredients:
1 cup butter, softened
2 cups sugar
1 teaspoon salt
4 large eggs
2 teaspoons baking powder
3 cups flour
3/4 buttermilk
⅓ cup lemon juice
2 tablespoons lemon zest
1 teaspoon vanilla
For the Glaze:
1/4 cup water
½ cup sugar
1 small lemon, sliced
For the Frosting
½ cup butter, softened
½ cup shortening
4 cups powdered sugar
1 teaspoon vanilla
6 oz white chocolate, melted
2 tablespoon heavy cream
2 cups toasted coconut
Egg shaped candy