Oreo Mini Cheesecakes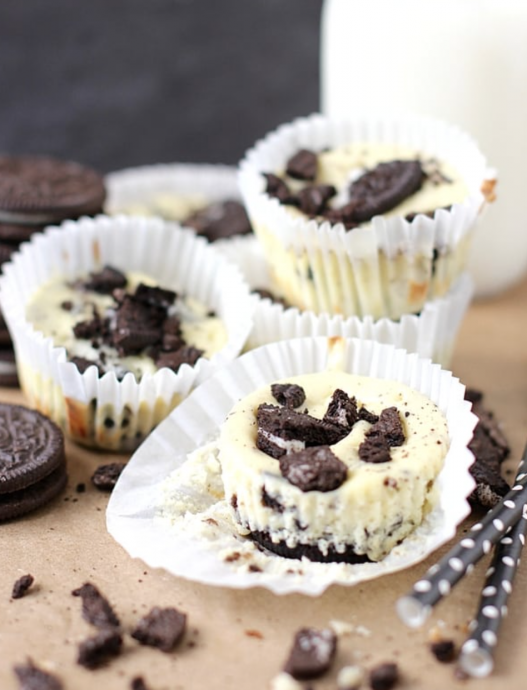 Oreo mini cheesecakes are a creamy and delicious dessert that's surprisingly easy to make! How can you go wrong with Oreos and cheesecake in the same bite? Anyone else a fan of cheesecake? It makes me weak in the knees for sure – creamy and dreamy. But then you add unexplainably delicious Oreos and you have a dessert masterpiece! Without hesitation, I can say, Oreo Mini Cheesecakes are the best dessert ever! They're the perfect size to enjoy a sweet treat without the guilt of a huge full-size cake or pie looking you in the eye. Mini desserts are wonderful for any type of gathering (baby showers, birthdays, potlucks, whatever) because they're individual servings. Well, if you can resist going back for seconds!
The great thing about this recipe, you get an amazing cheesecake without the hassle of a water bath, and no worrying about a cracked, sunken center. The filling for this delicious cheesecake has just five simple ingredients, and the mini cakes bake in a mere 20 minutes. Plus, an Oreo cookie makes your crust. Mini cheesecakes look even more delectable if they have some larger cookie pieces sprinkled on top. Reserve some larger piece when you crush up your cookies.
Ingredients:
12 Oreos
8 ounces cream cheese softened
1/3 cup sugar
1 teaspoon vanilla extract
2 eggs
1/4 cup Oreo cookie crumbs
5 Oreos broken into bigger pieces