Homemade Star Crunch No Bake Cookies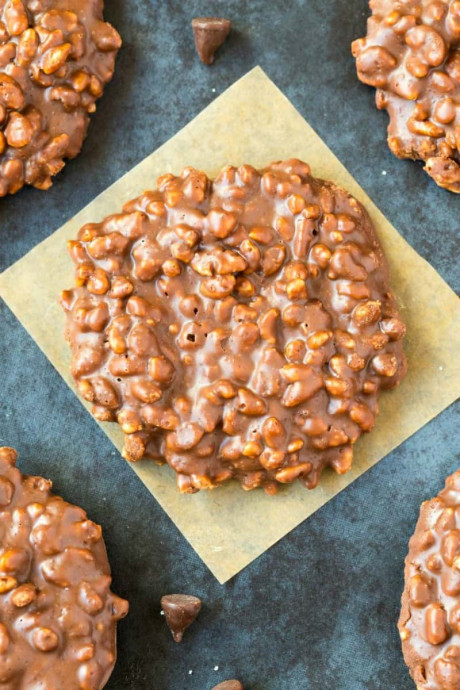 This recipe for homemade Little Debbie star crunch is made with crispy rice cereal, chocolate and peanut butter! No baking required, you only need 5 ingredients and 5 minutes to make- Vegan, Gluten Free, Dairy Free.
Making homemade star crunch is super simple. You start by combining all your ingredients, except for your rice cereal, into a large, microwave safe bowl. Then, you'll microwave everything until the chocolate chips and peanut butter have melted. Whisk the mixture together, until glossy and shiny. Next, you'll add your crispy rice cereal and mix very well, until all the cereal is evenly coated in the chocolate mixture. Finally, you'll line a large baking tray or plate with parchment paper. Using a spoon, drop spoonfuls of the star crunch mixture onto the parchment paper. Repeat until all the mixture is used up, and refrigerate it until firm.Similar to a chocolate rice krispie treat, I wanted to make my own homemade and healthier version. Instead of using butter, sugar and hydrogenated palm oil, I used healthy swaps, that just happen to be refined sugar free, vegan and gluten free! Taste wise, they are sweet and loaded with chocolate flavor, with hints of a light caramel.
Ingredients:
5 cups Crispy Rice Cereal
1 1/2 cups Chocolate Chips
1 cup Peanut Butter can use any nut or seed butter
1/4 cup coconut oil
1/2 cup maple syrup