Kimchi Fried Rice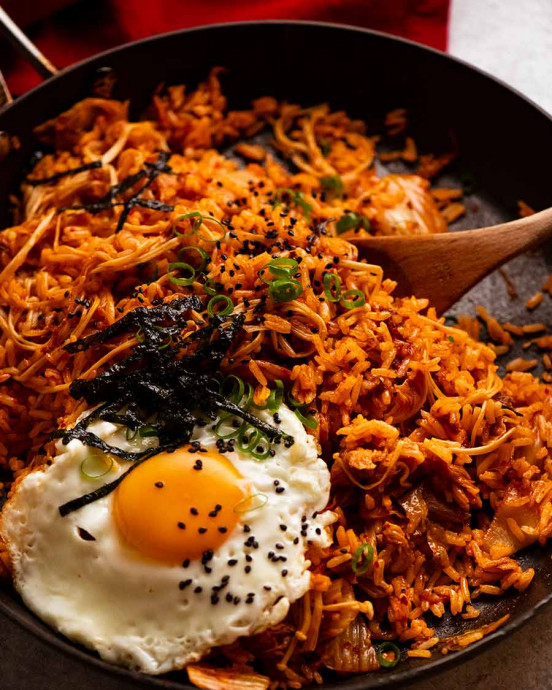 Don't be intimidated by the fiery red colour of Kimchi Fried Rice. It actually isn't that spicy! But it's certainly loaded with flavour, even more than its Chinese counterpart. It makes an excellent (essential) side dish for a Korean food night, or alongside any Asian food. And it's a satisfying meal in itself! Kimchi Fried Rice is as common in Korea as Chinese fried rice is in China. Every household makes it, and it's a thrifty comfort dish that makes use of leftover cooked rice and kimchi from the fridge. Extra ingredients on hand are often added to keep things interesting.
This fiery-red Korean rice dish is more bark than bite! While it is full-flavoured, it is not nearly as blow-your-head-off-spicy as one might expect. The sauce for Kimchi Fried Rice is made with a combination of the juices from a jar of kimchi, plus gochujang, the Korean soy bean chilli paste commonly used in Korean cooking.
However, if you're serving it as a meal, I definitely recommend topping it with a fried egg, sunny side up! This is a traditional topping for Kimchi Fried Rice, and the runny yolk essentially acts like a bit of sauce for the dish.
Ingredients:
2 tsp sesame oil , toasted, separated (1 tsp + 1 tsp)
2 garlic cloves , finely chopped
200g/7oz enoki mushrooms (Note 1)
1 tbsp oil , vegetable, peanut or canola
1 tbsp gochujang (Korean chilli paste, Note 2)
1 cup (packed) kimchi (Note 3)
1/4 cup kimchi juice , from the kimchi above (Note 3)
3 cups cooked , day old white rice (Note 4)
Fried egg , runny yolk, sunny-side up
Black sesame seeds
Green onions , finely sliced
Crispy seaweed strips (Note 5)