Tofu Breakfast Sandwich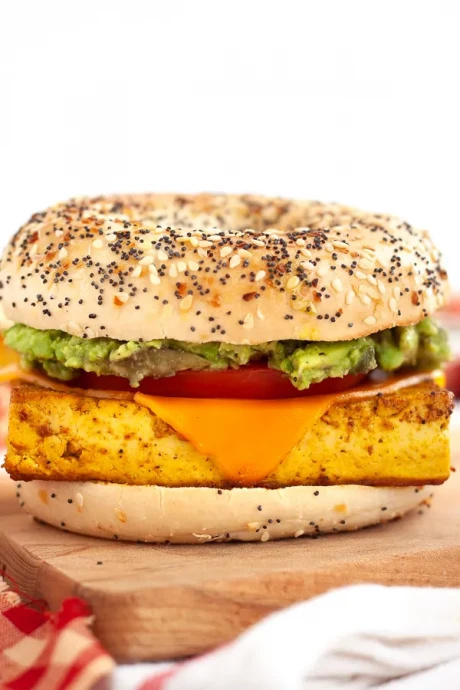 This tofu breakfast sandwich is my favorite way to start the day, and it's super filling and easy to make! The best part is, you can make it ahead of time and just put everything together the morning of. It's packed with protein and veggies, and best when served on top of a toasted everything bagel. This breakfast sandwich will keep you full and going all day long! If your mornings are super rushed, include sugar or consist of on-the-go packaged breakfasts, you've got to try this breakfast sandwich.
It's hearty, flavorful, and super easy to meal-prep with. Egg sandwiches are always a good idea, and now you can have them even if you're vegan or just wanting to try something new! I used Extra Firm tofu for this vegan egg, you need a super firm block that won't fall apart and that will absorb tons of flavor. This brand does just the trick! If you're not a fan of vegan cheese from the store, you can always make your own with this cashew cheese sauce recipe, just add it along with the other toppings as there's no need to cook it. If you prefer, you can always just have an "egg and cheese" sandwich too!
Ingredients:
1 Block Housefoods Extra-Firm Tofu
2-4 Slices Vegan Cheddar Cheese
1 Tomato
1 Avocado
2 Tbsp Soy Sauce
2 Tbsp Water
2 Tbsp Neutral Oil
1 Tsp Liquid Smoke
1 Tbsp Nutritional Yeast
1/2 Tsp Garlic Powder
1/2 Tsp Onion Powder
1/2 Tsp Turmeric
1/4 Tsp Pepper
Everything Bagels (2-4)