Beef Barley Soup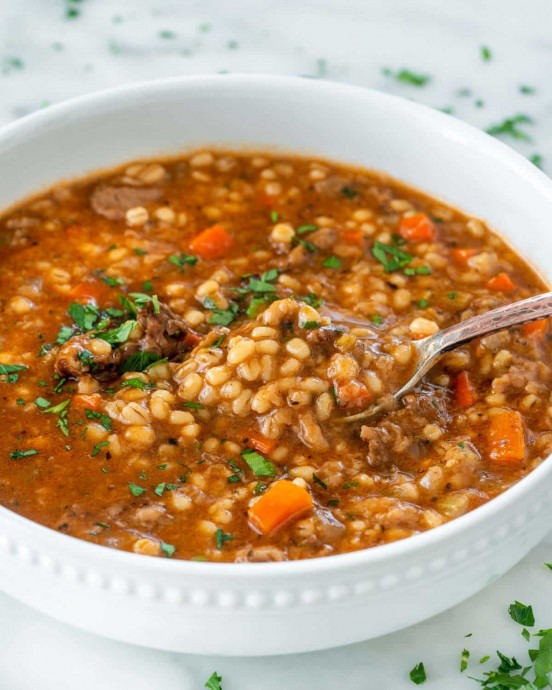 This Beef Barley Soup is rich, satisfying, comfort food in a bowl. A hearty and delicious soup, loaded with tender chunks of beef, barley, fresh herbs and veggies!
This beef barley soup is unbelievably delicious, comforting and so meaty! Loaded with barley, veggies, and melt in your mouth beef chunks, this hearty soup is easy to make and will become a new winter favorite! Why make this beef barley soup? There is a simple ingredient list. It's filling & hearty. The cooking process is foolproof, and it can be made in advance. The best beef for this soup is stewing beef! You can find it readily available in all grocery stores. It comes already cut into cubes, ready for you to just cook with it. If you cannot find stewing beef, go for collagen-rich cuts such as chuck or short rib. These cuts of beef are usually tough if you cook them for a short period of time, but become ultra tender when slow cooked over a long period of time.
I love soups like this, ones that can be eaten as a meal! Simple ingredients, foolproof process, delicious soup – what more could you ask for? This beef barley soup can be made in a crockpot. Cook for either 4 hours on high, or 8 hours on low. Feel free to incorporate any veggies, herbs or spices you see fit!
Ingredients:
1 lb stewing beef
1 tsp salt or to taste
1 tsp pepper or to taste
½ cup all-purpose flour
2 tbsp olive oil or more if needed
1 large onion chopped
1 large carrot peeled and chopped
2 stalks celery cleaned and chopped
3 cloves garlic minced
1 tbsp oregano fresh, chopped (or 1 tsp dried oregano)
3 tbsp tomato paste
4 cups beef broth low sodium
3 cups water
¾ cup barley I used pearl barley, see notes
1 tbsp parsley fresh, chopped