Pear Walnut Honey Tart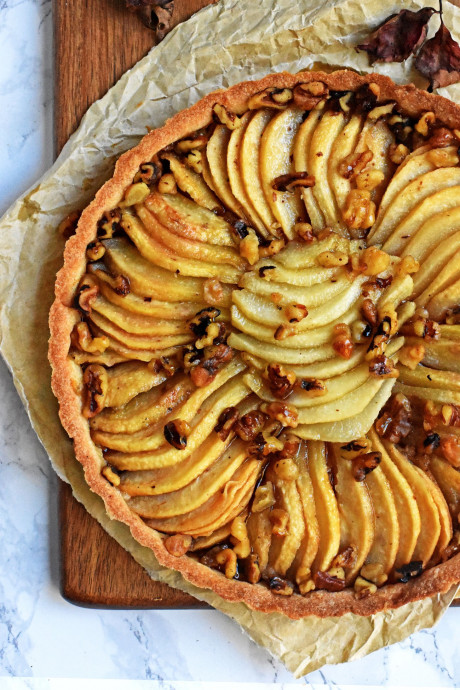 This Pear Walnut Honey tart is not really a French classic, but makes a great use of pears. With a buttery crust and walnuts sprinkled on top, it is simply amazing. This tart is prepared "à l'ancienne" (old-school) which means there is an "appareil" (a cooked mixture) spread on top of the crust, before laying the fruit slices on top.
The mixture here is a delicious pear compote, slow-cooked with vanilla and honey (the original recipe calls for brown-sugar, but I wanted to focus on Fall flavors with the honey). Once the compote is cooked, let it come to room temperature and spread it on the crust. If any left, keep it in a bowl with a plastic wrap on top and place it in the fridge. It will make for a great quick snack for later on (it will last for no longer than 24 hours). Making the crust from scratch for this tart will make all the difference, since it includes some hazelnut meal, which works perfectly with the pear and walnut filing. I used Red pears for this cake as this is what I had on hand. You can use whichever variety of pear you might like. Ripe, but still firm pears will work best.
Ingredients:
For the crust
1 cup flour (+ a little more for dusting the working surface)
1/3 cup unsalted butter (at room temperature) ( + a little more for greasing the pan)
3 tbsp hazelnut meal (or almond meal)
½ cup icing sugar
½ egg
For the filling
6 pears (variety of your choosing)
1/4 cup honey
1 tsp vanilla extract
1/3 cup chopped walnuts
2 tbsp rolled oats