Spiced Red Wine Pear & Chocolate Cake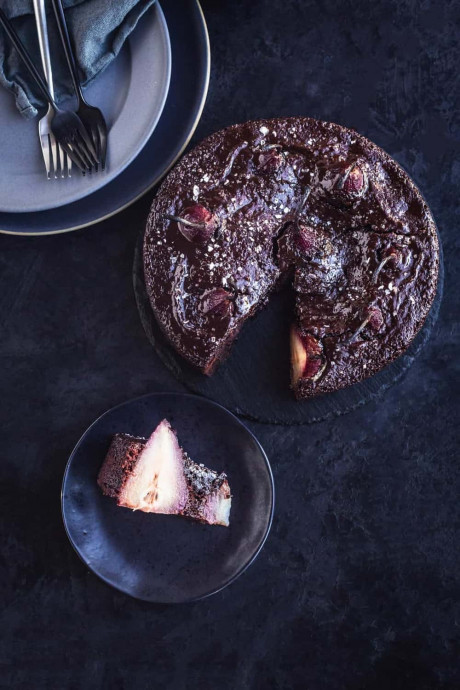 Deliciously impressive and easy to make red wine spiced poached pear and chocolate cake. Stunning deep ruby whole pears popping out of a moist and boozy chocolate cake… baking at its very best! Poaching the pears pre-baking them in the cake ensure that they don't dry out and are scrumptiously tender by the time the cake is all done.
Using Bosc pears for poaching ensures that they hold their shape and don't become mushy when poached. The spice infused wine adds an unexpected spicy and fruity note that brightens the chocolate batter. Adding spiced wine to the ganache adds an additional complex layer of kick to cake.
I enjoy sipping on spiced red wine (also called mulled wine) throughout the late fall and winter. There's something quite medicinal about spices simmered in red wine and it really warms the body from the inside out. Fret not if you think Chocolate Ganache sounds fancy or difficult to make. Cause it's really simple and only requires two ingredients: chocolate & heavy whipping cream. That's it. Heat the cream on the stovetop and pour the warm cream over the chocolate, let it sit for 2-3 min, give it a good whisk, and voila, the ganache is made.
Ingredients:
For the Spiced Red Wine Poached Pears
2.5 cups dry red wine such as cabernet or merlot
8 Bosc pears
1/3 cup sugar
3 long strips orange peel
1 orange juiced
2 sticks cinnamon
4 whole cloves
2 star anise
2 cardamom pods
For the Cake
1/2 cup
unsalted butter melted, plus a bit
more for greasing
1 1/4 cups all-purpose flour
1/3 cup unsweetened cocoa powder
1 teaspoon baking soda
1/2 teaspoon kosher salt
2/3 cup granulated sugar
1 large egg room temperature
1 cup spiced red wine
1 teaspoon pure vanilla extract
For the Chocolate Ganache
4 ounces semisweet, bittersweet or dark chocolate chips about 2/3 cups
1/3 cup heavy whipping cream
3 tablespoons spiced red wine